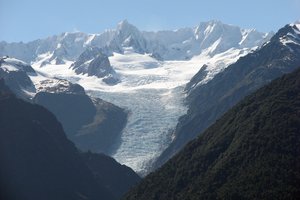 The German tourist who was rescued from a West Coast glacier after spending a night trapped in an ice crevasse is in a stable condition.
Sabine Hellenbrandt, 34, was reached by rescue teams this morning who winched her out of Explorer Glacier, about 2750m above sea level.
She was very cold and in a lot of pain, with a suspected broken leg and arm, said police.
The woman was taken to Christchurch Hospital by rescue helicopter where she is now said to be in a stable condition.
She's still too shaken to speak about her horrific ordeal, hospital staff say.
The woman was tramping on the glacier when she fell into the crevasse about 3pm yesterday.
Her fellow German climbing companion, Helmut Lachmann, a 55-year-old doctor, managed to reach her, secure her from slipping further into the crevasse and making splints for her before heading out to raise the alarm.
A three-man team from South Westland Alpine Cliff Rescue were flown by helicopter into the region.
But they couldn't find her in thick cloud and were forced to land on the ice and find her on foot.
They tracked her down about 6pm and stayed with her overnight to keep her warm and stable.
Police described the pair as experienced and well-equipped mountaineers.
West Coast search and rescue coordinator Sean Judd praised the actions of the rescuers.
"They spent all night with her and did a fantastic job looking after her,'' he said.
"At that altitude and a patient that badly injured, it wasn't an easy night for them.''
It was also fortunate that her companion was a doctor, Mr Judd said.
He added that the rescue was a "great result''.
"If you fall down a crevasse, it could end badly. She's got some nasty injuries, but in the greater scheme of things I guess she was lucky,'' he said.
- APNZ