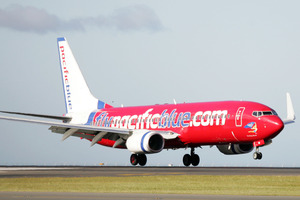 The Auckland-based Pacific Blue pilot accused of carelessly operating an aircraft flying from Queenstown to Sydney in June 2010 has been found guilty by Judge Kevin Phillips.
The written decision comes after a prolonged defended hearing in the Queenstown District Court, which was held over two weeks each in March and July last year, with the final day of the hearing last September.
In his written decision, released today, Judge Phillips said he was satisfied "no reasonable or prudent pilot" faced with the conditions the pilot - who has interim name suppression - encountered, would have commenced a "take off roll".
Taking into account the Evening Civil Twilight requirement, poor light, cloud cover below the minima and cross wind levels, including gusts, Judge Phillips found the pilot did not exercise the degree of care and attention a reasonable and prudent pilot would have exercised on June 22, 2010.
"I am satisfied that the defendant... was careless in his manner of operating the aircraft.
"The defendant ignored the mandatory requirements and, in their place, used his planned self designed contingency.
"I have found against him on that issue.
"I consider the findings of fact that I have made establish clear fault on the part of the defendant.
"Indeed, on my findings, the defendant's fault is self evident in each and every particular."
A sentencing date is yet to be confirmed.
The New Zealand Air Line Pilots' Association (NZALPA) issued a statement saying it was disappointed with the verdict.
"The three year judicial process has been very difficult for the pilot and the family. NZALPA does not wish to make any further comment as this may prejudice the pilot's ability to launch an appeal."