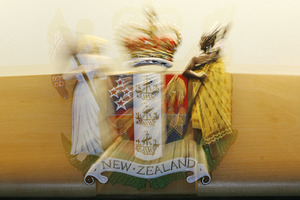 An intellectually disabled teenager who received none of his stepfather's $2.2 million estate, because he was unborn when his mother married, is fighting in the Supreme Court for a share of the inheritance.
Alyxe Wood-Luxford was 4 years old when his mother, Wendy Luxford, 35, and stepfather John Luxford, 73, were killed in a three-car crash near Taupo in April 2000.
More than a decade later, the 17-year-old is still fighting for a share of their estates with the help of his maternal aunt - his guardian - who says he is morally entitled to a share.
Alyxe was in his mother's womb when she married John Luxford in April 1995.
He was not included in the wills because they were made out the day after the wedding, six months before he was born.
The wills did include Alyxe's older brother, Logan Wood, who was 11 years old at the time of the wedding.
Logan inherited two-thirds of his mother's $1.8 million estate and all of his stepfather's $2.2 million estate, and is arguing in court against Alyxe's attempts to contest the will.
The case centres on whether Alyxe can be considered a stepchild, which would give him the right to contest his stepfather's will.
Under the Family Protection Act, a child has to be "living" at the time of marriage to be considered a stepchild.
Last year, the Court of Appeal ruled that Alyxe was not eligible to bring a claim against his stepfather's estate because he was unborn at the time of marriage.
Yesterday, his lawyer, Grant Allan, argued before the Supreme Court that denying Alyxe the right to challenge the will was unfair and arbitrary.
"There is a discrimination between the two brothers, which perplexes Alyxe's guardian."
Mr Allan said Alyxe could be considered "living" at the time of marriage even though he was unborn, and that that would be consistent with succession rulingsin other jurisdictions.
Mr Luxford had been fully aware Alyxe's mother was pregnant with another man's child when they married, and he had considered Alyxe his own son.
"[Alyxe] is in the position of having an arbitrary ruling simply because, through no fault of his own, he had six months to go after the date of his mother's marriage."
Logan Wood's lawyer, Glenn Mason, said the Court of Appeal's ruling was in no way arbitrary, and had upheld the intent of the law.
The Family Protection Act was intended to cover only living stepchildren at the time of marriage, and the word "living" was taken to have its usual meaning when the law was passed, he said.
The Supreme Court reserved its judgment.
Speaking after the hearing, Alyxe's aunt Susan Wood - who has been his legal guardian since the fatal crash - said they had brought the case because it was a moral issue.
She said a share of the estate would "give him an opportunity in life".
"This is what his parents wanted, and it's unfortunate that not all parties of the family can agree to that."
Ms Wood would not comment on Alyxe's relationship with his older brother, but said she was grateful the case had reached the Supreme Court.
"Obviously we've come here in the mind that we are successful, but we just have to respect what those five judges come to the conclusion of."
If the court ruled against Alyxe, he could still contest a share of his mother's will - which the Court of Appeal noted he had a strong claim to.
- APNZ