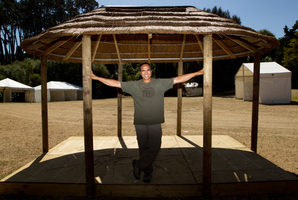 Stan Wolfgramm is not afraid of old school.
For him, it's about turning Pasifika into a more authentic cultural experience - the way it was when it began in 1992.
"We want to make things more traditional. We're going away from the fish 'n' chips and making sure it's just island foods. The opening ceremony as well will be a fono [meeting] style, sitting in a circle."
Mr Wolfgramm, founder of television, events and communications company Drum Productions, is a former actor, model and writer. He is best known for his work with the annual Westfield Style Pasifika fashion show.
He takes over from Pasifika Festival director Ole Maiava, who was in the seat for six years but had been involved with the festival since 1993.
Mr Wolfgramm said surviving 21 years was huge: "For an event to last that long and to continually grow ... is probably of more value than turning 21. It's embraced by so many more people now. It used to just be Pacific families coming together in West Auckland; but now you name it, you're there."