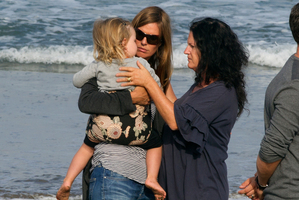 A thousand people are expected to attend Adam Strange's funeral today at Auckland's Muriwai Beach. The 46-year-old was killed in Wednesday's shark attack.
Muriwai Lifeguard Service chair Tim Jago said the service will be an upbeat celebration, and a little bit quirky.
"As Adam is taken out of Muriwai for one last time, I think there is going to be a fairly entertaining, theatrical departure for him," he said.
Mr Jago expected there to be a very large Muriwai turn-out, as well as colleagues from overseas and people travelling the length of the country to be there.
The Muriwai shark attack may have contributed to an abrupt end to the swimming season at a number of beaches north of Auckland.
Mr Jago said the beach had been very quiet over the weekend and attendance at other ocean beaches in the upper North Island were also way down.
"Inner harbour beaches are certainly being well visited but still elsewhere things are very quiet. It certainly does seem that people have decided to stay away."
He said people are keeping away from Auckland's west coast beaches, as well as east coast beaches like Omaha northwards, Whangarei Heads, Ruakaka and Waipu.