Defamation deal could be in six figures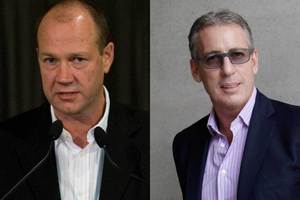 Former Hanover Finance bosses Eric Watson and Mark Hotchin have won a significant victory in their legal battles.
It is understood the New Zealand Shareholders Association has paid a six-figure settlement to end defamation action against it.
Watson and Hotchin have been pursuing the association and former chairman Bruce Sheppard since 2009, over comments made by Sheppard.
Neither side would confirm settlement yesterday, but Watson and Hotchin are continuing to pursue Sheppard over the statements he made after the Hanover collapse.
The High Court heard last September that Sheppard waged a strongly-worded campaign in television and radio interviews, in emails to MPs and ministers, and on his blog.
Watson said he was unable to comment.
"I'm bound by confidentiality. But no one should tolerate being the subject of public statements that are so blatantly wrong.
"The damage caused by Sheppard's false and defamatory statements justifies the need to pursue the action we have taken."
Watson said they would pursue Sheppard "because of the severity of the statements he made and the extent of the resulting damage".
Shareholders Association chairman John Hawkins said he was unable to comment but a statement would be released tomorrow. Sheppard did not return calls.
About 16,000 investors lost more than $500 million after the collapse of Hanover and the sale of assets to Allied Farmers.
- Additional reporting by Abby Gillies