Conservation Minister Nick Smith will consider hotly debated plans for a tunnel and a monorail to take tourists from Queenstown to Milford Sound. Geoff Cumming examines the cases for and against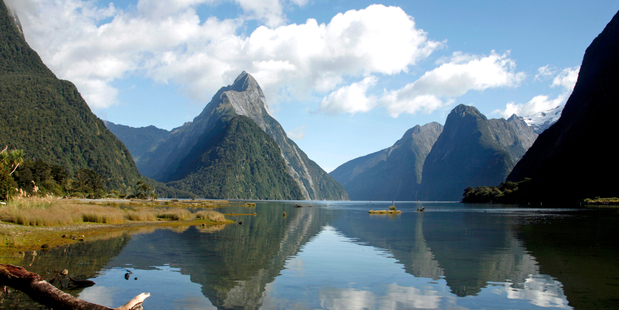 It is the holy grail of New Zealand tourism: easing the path to Milford Sound for domestic and international tourists without destroying what lures them there in the first place - its scenery, ecological value and remoteness.
For decades, tourism entrepreneurs have laid schemes at the door of the Conservation Department without quite prising it open, from a coastal road defying engineering conventions to a gondola.
Now, DoC has allowed two proposals a foot in the door - one a bus-only tunnel with approach roads through two national parks; the other a "back-country experience" involving boat, 4WD bus and monorail. Both promise to cut in half the circuitous 4hr road journey from Queenstown to Milford around Lakes Wakatipu and Te Anau. The applicants plan international marketing to bring an estimated 20,000 extra visitors a year to New Zealand, targeting time-poor tourists who want the greatest hits at speed.
What's the rush? Accommodation at Milford is strictly limited. Though Te Anau, two hours' drive away, can accommodate 4000, most visitors to the region opt to stay in the bright lights of Queenstown. Up to 40 buses daily ply the road route, giving visitors a three or four-hour window in Milford - time enough to have lunch, cruise the fiord and maybe visit the observatory- before the ride back.
A quicker land route would spread the load and give visitors more time there, boosting the 40-odd businesses that work the sound with benefits rippling through Fiordland, say proponents. They point to a recent fall in visitors to our most famous destination. Those behind the monorail say its terminus north of Te Anau could be a starting point to explore other parts of the region.
The plans fit neatly with the Key Government's desire to extract more economic gain from the conservation estate and boost employment in struggling regions, be it from tourism or mining. But both routes cut through forests and landscapes which have Unesco world heritage status - not just for their scenery but for their ecological values. That DoC would even consider them has reignited debate about the extent to which our national parks should be spared - or "locked-up" - from development.
Opponents argue that getting there is half the fun: the existing route takes in outstanding natural landscapes - good enough to serve as backdrops for the Lord of the Ringstrilogy. As for the well-heeled, they can always go by plane or helicopter.
Both schemes will have environmental impacts: removal of habitat used by rare and threatened wildlife; potential river pollution and noise in valued tramping areas. But DoC staff have concluded that these impacts can be mitigated. Both seem high-risk with longterm paybacks. Few details are available on the cost to passengers.
This week, the decision on whether either multimillion-dollar scheme can proceed was moved from within the department to Minister Nick Smith, placating conservationists who argue that, under legislation, neither should have got past first base with DoC.
But though the proposals have the potential to polarise New Zealanders on philosophical grounds, Smith's task is to examine each on its merits. Can a balance be struck? Here's what's at stake.