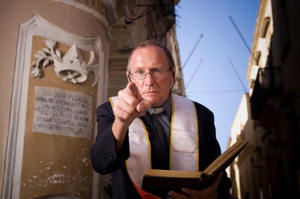 In his seminal work God Is Not Great: How Religion Poisons Everything, Christopher Hitchens, the late intellectual and atheist, said "human decency is not derived from religion. It precedes it". His observation comes to mind after the sanctimonious contribution of Anglican Dialogue writer Ron Hay, who laments the likely passage into law of legalised same-sex marriage.
His piece makes several main assertions, the core of which ostensibly suggest the bill is a threatening beast to traditional marriage, will result in the breakdown of cultural cohesiveness, threaten the wellbeing and nurturing of children, create a great injustice against heterosexual married couples, and result in the disintegration of human society as we know it. As with the arguments of many of the religious opposed to this bill, he offers nothing in the way of substantive evidence to back his claims.
Religion has always sought to manipulate and dictate the manner in which individuals live their lives. The Marriage Equality Bill threatens many in the church, as it has the potential to take away what, within the Christian church, has been its centuries-old claim of authority and moral ownership of the institution of marriage.
The church has long coveted its ability to spread its tentacles into the lives of citizens, making moral pronouncements over how others ought to live, how children ought to be raised, of what is virtuous, and what is sinful.
Historically, the church has preyed on the fragility of the human condition, using biblical teachings as the basis on which to cajole individual adherence to unsubstantiated dogma and fallacy. In certain respects, the church grooms its victims to accept its claims of moral ascendancy and to unquestioningly accept its authority, and that of its leaders.
Fortunately, educated, enlightened, and humanly progressive societies steadily continue to abandon the church, making the arguments of writers such as Ron Hay increasingly redundant ...
Mercifully, religious adherence, at least in the developed world, is in free fall. The great scientific discoveries of recent decades in the fields of physics, astronomy, chemistry, and evolutionary biology, coupled with how the internet has enabled great depth of knowledge dissemination across and within societies, is crushing the ability churches previously held to brainwash the masses, lay claim to being the unquestionable ethical guardians of civilisation, and to seek to influence and dictate the political and social agendas and debates within secular societies.
Religious arguments against this bill in recent months have been a sad reflection of the decaying state and growing irrelevance of organised religions to our age. Many opponents have dogmatically defended their positions in superior and self-righteous tones, claiming ownership to concepts of family, community, tradition, and values. Some have had the audacity to question the depth of love same-sex couples have for one another. Others have sought to make fun of homosexuals with cheap references to marrying your horse or mother-in-law. Still more have suggested that same-sex attraction is an illness, the result of environmental influences, and that it may be cured through prayer.
These self-righteous individuals have brought shame on themselves, and have served substantially to further marginalise the religious faiths they represent from enlightened humanist thought and debate.
It's time the churches, their leaders and their adherents began to question, openly and honestly, their role, purpose and future within society.
We must continue to move to the development of secular and spiritually enlightened values. Equally, public discourse on important issues must be based on evidence, reason, and progressive outlook, not hysterical and irrational fear-mongering and melodrama.
Sam Clements is a graduate researcher from the University of Auckland.
Debate on this article is now closed.