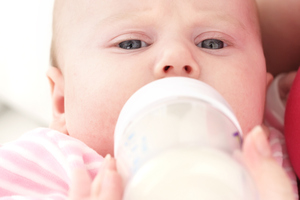 Parents using infant formula are being urged to check volume markings on bottles, as several types of bottles sold in New Zealand have incorrect markings, which could have a serious effect on babies.
Some low-cost feeding bottles for babies with inaccurate markings mean babies could be getting infant formula that is too concentrated, the Ministry of Health said in a statement.
In some cases the volume is overestimated by up 40 percent.
Fifteen of 35 bottles surveyed by Consumer Affairs had inaccurate markings by more than five percent. These bottles tended to be purchased from discount shops, said the statement.
Formula that is too concentrated can cause babies to have problems including, vomiting, diarrhoea and constipation. Untreated, it can cause serious dehydration.
Over time, the over-concentrated formula will provide excess calories, which could lead to children becoming overweight or obese and could harm organs such as the kidneys, said the ministry.
Bottles that meet the European regulatory standard (the EN14350 standard) are accurate, and these tend be more expensive than other bottles.
Caregivers using infant formula are being advised to get the accuracy of their feeding bottles checked, and can take their baby bottles to a pharmacy which has accurate measuring equipment.
Mothers who are expressing breast milk to feed their baby and want to check the volume is accurate should either use an EN14350 bottle or check the accuracy of their bottle or measuring containers at a pharmacy.
- APNZ