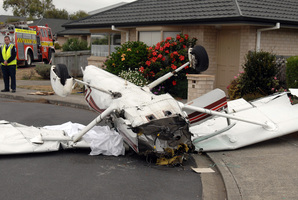 A coroner says it will be a "massive task" to piece together what happened in a fatal mid-air crash which killed two teenagers and a helicopter pilot in 2008.
Coroner Ian Smith today reserved his findings at the end of an inquest into the crash at Paraparaumu Airfield north of Wellington.
Those who died were plane pilot Bevan Hookway, 17, and the occupants of a Robinson helicopter - student pilot James Taylor, 19, and the experienced rescue pilot who was testing him, David Fielding, 30.
Mr Hookway was flying solo in a Cessna light plane while Mr Taylor was doing his final flight test when the aircraft collided on February 17.
Coroner Smith said circumstances were complicated and he faced a "massive task" in reaching his findings.
He could not say how long that would take.
Coroner Smith commended the families of the deceased who had participated in the inquest.
"You have done your families proud. You have challenged and asked."
The inquest earlier heard from Civil Aviation Authority safety investigator Alan Moselen, who did not investigate the crash but gave evidence on technical aspects.
He said aviation safety in New Zealand was good, and mid-air collisions were rare.
Asked whether different height separation procedures at the airfield would have avoided the collision, Mr Moselen said they may or may not have.
"There's a potential risk at any airfield," he said.
"We've had other mid-air collisions at other airfields for varying circumstances - not just because of different heights or the same height."
Asked what recommendations he would make, Mr Moselen said education would be at the top of his list.
The inquest resumed yesterday after it was delayed more than a year ago.
- APNZ