Phillip Leishman's brother tells of the broadcaster's peaceful end surrounded by family.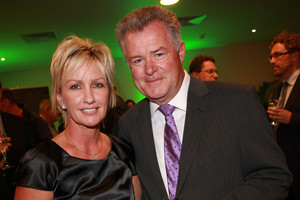 Mark Leishman has spoken about the emotional but peaceful death of his brother, acclaimed fellow broadcaster Phillip Leishman.
Mark Leishman said his older brother died in the early hours of yesterday surrounded by his wife, three children and siblings at the family home in St Heliers. He was 61.
Leishman told Radio Sport's Brendan Telfer the death was "very, very peaceful".
"It was quite a privilege to be there; incredibly sad as it was, of course. He was breathing quite heavily and ever so slowly, the breathing eased up and he quietly eased away.
"He had just three children, Harry, Indi and Lily, and his wife, Michelle. I was there with my other brother David and my sister Gillian and Michelle's mother was there as well. It was very special.
"Phil always liked his music and we had the iPod on in the background so he could listen. The song that came on just before he passed away was My Way, from Frank Sinatra, just by absolute sheer fluke and it was kind of special.
It sort of said it all."
Phillip Leishman's family and friends had gathered in the past week since the news that he had became ill and slipped into a coma.
He underwent surgery on a brain tumour last year, however the cancer returned.
Mark Leishman said they had spent the last few days sitting around his brother, talking to him.
"Right through [Monday] there were little signs that he could still hear us ... the family would ask him questions and he would flick his eyebrows to indicate that he could sense something was going on."
Phillip Leishman, whose television career spanned just over 40 years, was a popular face on the box, hosting the Olympic and Commonwealth Games and other shows including Wheel of Fortune in the 90s.
Mark said: "He was such a loved character in the country ... It says a lot for his ability to get on with people. He didn't upset anyone along the way. He had the talent."
In a family notice in the Herald today, wife Michelle said: "Our darling man has left us and we are devastated. What a wonderful, caring husband and dad you have been - so reliable and selfless - just like a good dad should be."
Last night staff at TVNZ paid tribute to a much-loved colleague who had started with them in 1971 when he got his first break at Dunedin's DNTV2.
Colleague Peter Williams said he had known Leishman for about 30 years and had the pair had grown to be good mates outside of the office. "He was just a good, fun guy."
Williams said Leishman's ability to connect with people was second to none and he had a particular interest in encouraging upcoming journalists. "He was always encouraging younger people ... he looked out for them."
Leishman will be farewelled at a service at St Patrick's Cathedral in Auckland at 1.30pm on Friday.
Phillip Leishman is survived by Michelle and their three children, siblings and mother Noeline, 92.