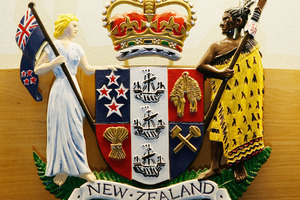 A promising rugby league player who brutally bashed a man, leaving him severely brain damaged, has been granted two weeks' bail to say goodbye to his family.
Ioritana Tuau, 22, pleaded guilty in the High Court at Rotorua today to a charge of wounding with intent to cause grievous bodily harm.
Tuau from Tokoroa played for the Penrith Panthers in the NRL under-20 grade in 2009 and 2010 before moving to Lower Hutt to play in the Wellington competition.
The attack happened in central Wellington in the early hours of September 15, 2011.
According to the police summary of facts, 25-year-old victim Robert Bryden and two associates came across Tuau, who was unknown to them, arguing with a woman on Courtenay Place. They asked if they needed help, to which Tuau replied 'Nah, we New Zealanders can take care of ourselves'. Mr Bryden punched Tuau in the face, knocking him to the ground, and continued walking. Tuau and two associates then chased after the men and cornered Mr Bryden alone on Tory St.
Tuau punched Mr Bryden to the ground then repeatedly kicked and stomped on his head, causing it to hit a concrete barrier. The attack continued after Mr Bryden lost consciousness and only stopped when a member of the public intervened.
Mr Bryden was taken to hospital in a critical condition and was on a ventilator for a number of days. He was expected to remain in a brain injury rehabilitation unit for one to two years.
Tuau handed himself in five days after the assault, telling police he did not recall what happened as he had been drinking heavily and had blacked out just prior to the incident.
In court yesterday Justice Pamela Andrews convicted Tuau and gave him a warning under the three strikes legislation.
Defence lawyer Max Simpkins, appearing on instructions from Tuau's Wellington lawyer Elizabeth Hall, applied for Tuau to be granted temporary bail before he was taken into custody.
Mr Simpkins told the judge Tuau's brother and sister, who he hadn't seen for a number of years, were arriving from Australia next week and he wanted to see them before he went to prison, which he knew was the likely outcome. Mr Simpkins also noted Tuau's partner had given birth to their child two days previously.
Justice Andrews granted bail, noting Tuau had no previous convictions, had been on bail for about 18 months and despite two breaches there had been no serious issues with his compliance. She said she was satisfied in the circumstances bail would be in the interests of justice.
"Bail is not frequently granted [to those] awaiting sentence, particularly when they know what the sentence is going to be," she said. "I expect you will strictly comply and surrender yourself."
Bail conditions include Tuau living at a Tokoroa address, abiding by a 9pm to 7am curfew, not using alcohol or drugs and surrendering at the Rotorua court at 9.30am on March 11, to be taken into custody.
Tuau will be sentenced in the High Court at Wellington on April 8.
For more articles from this region, go to Rotorua Daily Post