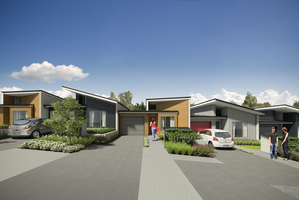 Within hours, nine of eleven houses being built in Auckland as part of what is aimed being one of the country's biggest affordable housing projects had buyers.
The remaining two sold by the next day.
The Axis Series homes at Hobsonville Point will include 3000 homes to be built in the next 10 to 15 years.
Some 300 will cost $400,000 or less and another 600 will have a price tag of between $400,000 and $485,000.
The first 11 homes, built by Hobsonville Lane Company, a subsidiary of Housing New Zealand, are due to be completed by August.
All sold this weekend for between $465,000 and $485,000.
"The homes went on sale on Saturday morning and nine had sold within hours. The remaining two sold later in the weekend," Hobsonville Land Company chief executive Chris Aiken said.
"Experienced sales staff working for builder partner Universal Homes said they had never seen anything like it."
Buyers have to meet a several criteria including that their household income cannot exceed $120,000 per annum, they must live in the house for at least 24 months, they must be over 18 and New Zealand residents and the homes cannot be bought in a family trust or company structure.
The largest home sold was a three-bedroom, single level home of 135 square metres, selling for $485,000, Mr Aiken said.
- APNZ