Problems with marina berths, security and parking in one section mean completion will be delayed to 2016.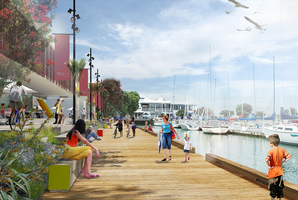 Work on a trimmed walking and cycling promenade through Westhaven is due to start in September, but the project has encountered problems with marina berths that have delayed the completion date to 2016.
Up to 5m wide, the promenade will form the western end of a 10km route to Mechanics Bay and would link to plans for a walking and bike path under the harbour bridge.
The project was blocked last year by Mayor Len Brown and his majority council supporters, but public backing for the initiative led to a rethink and the council body, Waterfront Auckland, making it the top priority in a plan for Westhaven.
The 2km link from the harbour bridge to Daldy St in Wynyard Quarter will be built in two stages with a piece in the middle in front of the marina berths on hold until issues with marina berths, security and carparking have been resolved. A temporary link will be built along the missing section.
The first stage, made up of paths and suspended walkways over the water, will cost $5.8 million and be completed next year. There is no budget for stage two, which is due to be built in 2016.
Waterfront Auckland is also keen to begin work on a $20 million marine village on Westhaven Drive, below the Shelley Beach Rd harbour bridge exit.
Planning and design manager Rod Marler said the sterile site was a great opportunity to create a vibrant, marine-related commercial development. There were no plans for housing on the site, but there was a possibility of raising the 10m height limit by about 1m, he said.
Other ideas in the Westhaven plan - out for consultation between March and May - include the possibility of a saltwater pool as part of the redevelopment of St Marys Bay, upgrading the boat ramp at the eastern end and building a park on the seaward side of the harbour bridge that could be used by campervans. There are also plans to expand the number of moorings.
View the plans:
www.waterfrontauckland.co.nz