That we're innovative, young, vibrant, creative and multicultural needs to be said, writes Heather Shotter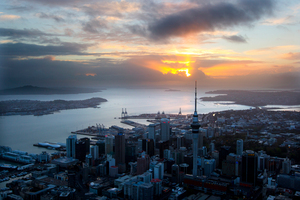 The world knows us not only as New Zealand, but also as Aotearoa, the land of the long white cloud, Godzone, or - more recently - Middle-earth.
If Auckland is to realise its aspiration of being the world's most liveable city we need to build the brand of New Zealand's global city: It is now time for Auckland to define itself as a destination in its own right rather than as the gateway to Middle-earth.
It has now been over two years since we became one city and yet we are still struggling to define our "brand" so we may realise the city's growth potential for the Auckland region and the nation. Before you all emit a collective groan at the thought of yet another debate about the pohutukawa versus the fuzzy 'A' or the stylised sails or the oxymoron of a "big little city", I am referring to much more than logos and catchy strap lines.
We must identify the very essence of what makes Auckland a great city; that sums up who we are and why we love living here, why visitors will want to come here, why international businesses will want to invest here and why overseas markets will want to buy our products.
Branding is risky territory for cities and for councils. Slogans and logos that have more style than substance fail to resonate with residents and visitors and tend to engender ridicule from tourists and the broader community that the slogan is meant to represent. Building a brand for Auckland should reflect our collective pride in our city.
In July 2012, the Committee for Auckland released a study titled Fuelling our Economy - a proposed skills agenda. That study defined, from an Auckland employer's perspective, what the key issues were in building a strong workforce with the skills required to support the challenges and opportunities of growing our economy. We want to attract the world's best talent and investment to our city and grow and develop our own talent pool providing opportunities for our young people to have careers here in Auckland.
The study concluded with a number of recommendations, one of which voiced loud and clear by employers was the need for Auckland to better define and communicate its brand as New Zealand's global city. Employers felt that while the "clean green" imaging was valuable, it was not a sufficient base for Auckland business success or to attract international visitors. Most importantly, it falls a long way short of expressing the vibe and values that residents of our largest city identify with and reflect to New Zealand and the world.
City branding has been an emerging practice over the past two decades, utilised as a strategy by international destinations to attract attention from investors, tourists, skilled workers, residents, and international events of significance.
Long established as an international Super City, in 2012 London benefited from huge international exposure from the Olympics and Paralympics and continues to market itself on the back of staging the games as a world leader in emerging technologies.
Trying to pigeonhole a city is difficult. The things we love about Auckland will always be subjective but our city needs to articulate the attractions of our environment and its people that our exporters, educationalists, investment community, tourism operators and event organisers can use to make the case for Auckland as a great place to live and work, to visit and to invest .
This is more than a slogan or an over-designed graphic: it is expressing the unique attributes that define our city.
The Skills Agenda Study identified the following characteristics that we believed merit consideration: clever, innovative, young, vibrant, creative and multicultural.
I am sure that new and established residents of our city would share the reasons they live here if Auckland Council asked Aucklanders the questions that the Herald and others have asked about our New Zealandness.
Auckland IS New Zealand's global city: now we need more than logos to help us walk the talk.
Heather Shotter is executive director of the Committee for Auckland, a cross-sectoral group focused on achieving Auckland's potential as a global city.