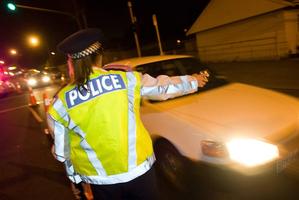 A Marton mother who claimed her high drink-drive alcohol reading was the result of antiseptic mouth spray to treat a tooth infection has admitted she drank too much and was "grasping at straws".
Cheryl Marie Butcher, 40, broke down in the dock at Feilding District Court today as she was sentenced to 75 hours' community work, six months' supervision and disqualified from driving for nine months.
The unemployed mother had earlier pleaded guilty to driving with excess breath alcohol after being caught just before 5pm on November 2 while travelling between Feilding and Palmerston North after other motorists reported her erratic driving to police.
She was tested and recorded a breath alcohol reading of 1307 micrograms per litre of breath - more than three times the legal limit.
Butcher had her young child and two teenagers with her in the car.
Duty solicitor Mark Alderdice said Butcher had been visited unexpectedly by an old friend and consumed about four glasses of fortified wine "in quick succession". She had driven only because she had to get her children - aged 18, 16 and 10 - to their father in Palmerston North.
"She then made a wrong decision."
Mr Alderdice said Butcher had no prior convictions and had never dealt with police before. She was confused by the high breath alcohol reading "as this was new to her".
"She couldn't understand why the reading was so high. She thought this may have been because of a breath antiseptic she's been using for an infected tooth.
"But it had nothing to do with it. It's a red herring. She drank too much. She drove.
"She was somewhat dumbfounded at the high level and was looking for an explanation. She was grasping at straws. But she knows it's because she drank so much."
Mr Alderdice said Butcher's offending was "exacerbated by the fact there were children in the car".
Judge Les Atkins said Butcher's reading was very high and the four or so drinks she claimed to have consumed "must have been very large glasses".
The situation could have ended in tragedy and was made worse by Butcher having her three children in the vehicle at the time.
"You say you had just a few glasses of fortified wine - it seems fair to me it was in excess of three or four glasses for a reading to result like this," he said.
"You placed yourself, your kids and other people on the road at risk - it's the sort of action that ends up in deaths, maiming, disfigurement - awful consequences for innocent road users."
The judge asked Butcher if she had thought about this. She replied, "Yes your honour" between sobs.
He took into account her early guilty plea and remorse before sentencing her to community work with supervision to address her "issues", and ordered her to undergo alcohol or drug treatment programmes and counselling as directed.
Butcher - who was not supported by anyone in court - wept in the dock and was passed tissues by a female police officer.
Outside court, she told media: "I hadn't had much to eat.
"It was a really stupid decision and it's affected my family. I realise I shouldn't have done it."
Butcher said her children had been harassed since the incident and things thrown at her house. She had also received prank calls. "I don't want that recurring."
Asked about her initial mouth spray claims, she said: "I'd rather not comment" before breaking down and leaving.