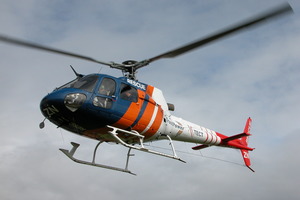 A helicopter searched for more than an hour for a boat with a man on board bleeding profusely after he fell through a window - only for the man to be found on his boat back in the bay.
In a bizarre search overnight, a man in a serious condition with a laceration to his arm managed to return to Pilot Bay at Mount Maunganui while the TrustPower Rescue Helicopter and Coastguard searched fruitlessly for an hour and a half.
The injured man used a mobile phone to contact emergency services about about 7.40pm.
That was the last time authorities heard from him as a full-scale search was launched.
The 36-year-old and another man on the boat were believed to be about 5km out from the harbour.
Their radio was not working and attempts to call them back resulted in emergency services being sent straight to voicemail.
Rescue helicopter pilot Todd Dunham said the search crew used night-vision goggles in an attempt to find the boat after reports that its lights weren't working or could not be switched on.
For the next hour and a half the helicopter and the Coastguard completed search patterns trying to find the boat with the injured man.
The boat was eventually found in Pilot Bay, where medics were able to attend to the injured man.
"We don't know whether the boat was there the whole time or whether it came in while we were searching," Mr Dunham said.
St John northern communications team manager Norman Ngatai said the injured man had a laceration to his arm and had suffered "serious blood-loss".
He was rushed to Tauranga Hospital in a serious condition about 10.30pm.
- APNZ