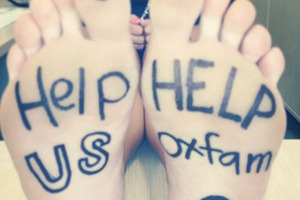 A group of three workmates aren't just walking 100km for Oxfam this April, they're auctioning off the soles of their feet.
Twenty-six-year-old Katie Blackwell and her workmates Jen Simmis, Olivia Sale and Stephen Williams are busy training for the 100km Oxfam Trailwalker walk around Taupo.
Teams must raise at least $2500 and complete the 100km walk as a group.
But unlike the first time she tackled the event, Blackwell and the other two women are also selling a foot each on TradeMe to the highest bidder in the charity's name.
Blackwell, who works at B J Ball Papers in Auckland, says they are "quite literally" putting their bodies on the line for charity.
"I brought it up and work and the girls said yes straightaway."
Williams, the only man, "surprisingly" isn't keen and "won't budge", she said.
Whichever business offers the most gets to tattoo whatever they like on the sole of one foot.
The auction, which began this morning, is set to a reserve of $2000 and is currently at $555.
The winner will get to choose the design - as long as it's no larger than 5cm by 5cm - and can attend the tattooing as it happens.
Blackwell said she's not too worried which business logo she ends up with on her foot, as long as they can raise as much cash as possible.
And they're even prepared to get them before the April 6 race, provided they can ink the arches of their feet and not the soles.
Blackwell says she isn't too worried about the pain.
"Feet apparently aren't too nice... [but] it'll be all worth it in the end."