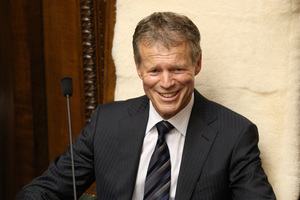 Former Speaker and longstanding National Party MP Lockwood Smith has delivered his final speech to Parliament, telling his fellow MPs that his biggest regret was voting against homosexual law reform in 1986.
Nearly 30 years after he was first elected to Parliament in 1984, Dr Smith is resigning to take up the appointment as New Zealand's High Commissioner in London.
As former MPs and staff watched on, Dr Smith said that as a relatively new MP he was caught in the `dilemma' of voting according to his own conscience or the will of his constituents. He said he had long regretted opting for the latter and opposing the bill.
Dr Smith also said he believed MMP had changed Parliament significantly and while it had the advantage of widening representation, it had also had the unintended consequence of making MPs more accountable to their parties than to voters. He said he was not advocating for MMP to be overturned but believed it was
Dr Smith also paid his respects to Labour leader David Shearer, saying he had a high level of respect for him and the dignity with which he conducted himself in Parliament. He said Prime Minister John Key had brought something unique to the job - and had never once tried to influence Dr Smith's handling of Parliament.
Among his highlights, he listed attending the Dawn Service at Gallipoli and his marriage to his wife Alexandra in 2009.
Dr Smith also defended the changes he made as an Education Minister from 1990 to 1996, including the introduction of the student loan scheme. He said he still believed that was good policy and had improved participation in tertiary education. However, he said his move to means test the student allowance had not been fair.
Dr Smith began by saying he hoped history would positively record the economic reforms of the David Lange/ Roger Douglas Government and the Jim Bolger Government that followed it more positively. He said it was those reforms that had meant New Zealand was robust enough to withstand the recent economic crisis.
Dr Smith also spoke about his time as trade minister, including beginning free trade talks with Singapore which were completed under Labour and led to the regional Trans-Pacific Partnership negotiations now underway.
Dr Smith was first elected in the snap election of 1984 in the Kaipara seat which became the Rodney electorate in 1996. He gave up that seat to be a list-only MP in 2011 saying it was to focus on his duties as Speaker - although it was widely known by then that he was likely to be appointed to the London post and the move prevented the need for a by-election.
David Carter was elected as the new Speaker earlier this month.
Dr Smith was a minister under the Jim Bolger- and Jenny Shipley-led National Governments in the 1990s, including a memorable moment as Education Minister when he climbed out of a window at Canterbury University to avoid a blockade by students protesting against student loans. He was Education Minister from 1990 until early 1996 after which he also had stints as Minister for Agriculture, Forestry, Contact Energy and tourism.
Dr Smith has a beef farm in Ruawai and will move to London with his wife Alexandra later this month. He will be replaced in Parliament by the next person on National's list - Aaron Gilmore.