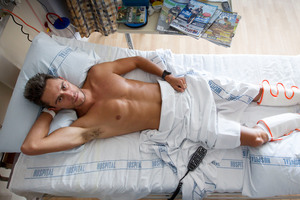 A Taupo charity has offered to help triathlete Glen Cornwell on the road to achieving his next big goal - competing in next year's Ironman event.
Mr Cornwell, 38, suffered tears to ligaments in his lower back and fractures to a vertebra when he was hit from behind by an SUV while training for the Ironman in Taupo next month.
He appealed to the event organisers to transfer his more than $800 entry fee to next year's race, but was stunned when they refused. But the 100 per cent Taupo Charitable Trust has offered to pay the entry fee in a bid to not only help him but to inspire other young sportspeople.
Trust spokesman David Trewavas said: "His story really hit a nerve with us. We support the Ironman event but were saddened about what happened in this situation. So we thought maybe we could help Glen to achieve his goal and in the process help young people."
Mr Cornwell's story appeared in the Herald on Monday.
Last night he was at home resting flat on his back after being discharged from Auckland City Hospital following spine surgery. "I'm just lying here trying to ease the pain.
"I've got about five or six different painkillers to keep the pain in check, but the worst pain is at night when you're on your back and have to roll on to your side and that. It's still painful."
He said it would take about three months to get back to his normal training schedule and he was preparing himself for a tough time ahead.
"I'm going to have to start off in the swimming pool, then start doing a few things in the gym and exercising. I was in the hospital for two weeks and lost 4kg - the muscle I had gained during training had just wasted away."
He was overwhelmed by the support he had received. "I've had so many people get in touch to show their support or just post comments on Facebook. I'd like to say 'thanks a million' to those people.
"For me, it's not about the money and it's not all about me. It's about Ironman organisers being compassionate and being understanding. It's not just about their business - it's about the athletes."