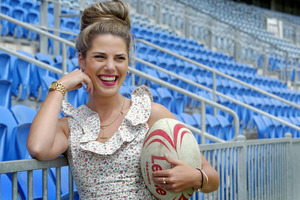 The website manager who upset Northland rugby bosses by posting photos of a young female Northland Rugby Referees' Association employee in her bikini has apologised for his actions.
But Northland rugby officials say they are seeking legal advice about whether the use of the offending photos constituted cyber bullying or harassment.
The apology from Murray Potts, who runs the KerikeriRugby.com site, comes after Northland Rugby Union distanced itself twice in two weeks from the website which is not officially affiliated to the NRU or Kerikeri Rugby Club.
The latest upset came after Potts posted more photos of bikini-clad Alanna Clare, which he had lifted from her Facebook page, on his website in a section titled "Welcome to the Alanna Clare NRU Rugby Referee's Fan Page". However, yesterday, Mr Potts removed the offending photos.
The original photo was accompanied by the caption: "Northland Referees blowing their whistle prematurely in 2013 could spend time in the Sin Bin, if this is anything to go by!''
Meanwhile, union chief executive Jeremy Parkinson had indicated the organisation would seek a legal opinion on the use of its own name in conjunction with the "fan page", and about whether the use of the photos amounted to cyber-bullying or harassment.
Mr Potts told the Northern Advocate yesterday he now wanted to put the incident behind him. He said that although it was never his intention, he could see how his treatment of Ms Clare's photos and role could be criticised as sexist and exploitative.
He was sorry for embarrassing Ms Clare and for possibly alienating himself from the local rugby community.
"I extend my sincere apology to Alanna Clare for the embarrassment and discomfort I caused due to the Facebook photo and comments I published on KerikeriRugby.com.
"I apologise to the Northland Rugby Union for posting the material, and for causing friction between the parties concerned. I apologise to the Kerikeri Rugby Football Club Inc for unnecessarily embroiling them in this matter. I also apologise to those in the wider community who were upset or offended by my actions.
"Please accept that my posting of the insensitive material in question was an unfortunate aberration. There are over 500 rugby articles posted on KerikeriRugby.com, and nothing else on the site could be construed as either sensationalist or overtly attention-seeking," he said.
Mr Potts removed an earlier photo and accompanying inappropriate comments when asked by the NRU and NRRA, but admitted he later put up the "fan page" as a peeved reaction to the unexpected pressure he came under.
Media law specialist Stephen Price, of Victoria University, said although there was a grey area between what are perceived public and private domains on social media, it is clear the person who takes or commissions photos owns the copyright.
For more articles from this region, go to Northern Advocate