We need to examine why hurting and frightening animals is entertainment and stop this legalised abuse.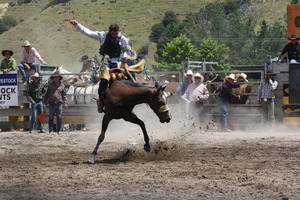 At two rodeos last month I watched as many in the crowd looked on, indifferent, sealed off to the meaning of struggling frightened animals, cheering and whistling as they were defeated and hurt.
Infant calves, chased out of chutes, fleeing at up to 30km/h slammed to an instant halt by a rope that washing-lined them. Some hung vertical, mid-air, before being slammed backwards to earth, the thud audible. Some had their spines buckled. Their torment was not over. Some were slammed to the ground again after getting to their feet, as "cowboys" overpowered them - man against baby animal - kneeling on their rib cage as they cried out.
One older calf with a young boy on his back had his face rammed into the dirt while the boy held on to his head, back legs right off the ground. That calf must have felt spinal and neck pain. The photograph is not pleasant.
Young steers had their horns grabbed, heads and necks twisted until they thudded to the ground. Their legs were then tied so cowboys gained more points.
Horses contorted their bodies into twisted shapes. At Huntly, the announcer said he had not seen such good bronco horses in a long time. It wasn't only their bucking, four legs off the ground, increasing the likelihood of falling, it was the way their bodies no longer went together, the way limbs extended at odd angles, their necks over-arched as they tried with all their power to remove the source of fear and torment on their backs. One horse fell, all legs in the air after vigorous twisting and bucking. One smashed into a fence.
Bulls cried out with riders on their backs. One collided into a fence. The thick blood that came from the mouth of one of the bulls after vigorous bucking was sad to see. Did he bite his tongue? The blood was coagulating. The huge weight of twisting bodies of bulls crashed down through their spindly legs while a man on the ground harangued and harassed them, deliberately getting in their way.
In the chutes awaiting what was next, animals reared, bellowed, called out, kicked the fences, collapsed to the ground. Groups of men gathered around to make them get up. How this was achieved is not clear. It is unlikely kindness was used. Some got up only to collapse again. That the animals did this is not a sign of being relaxed and eager.
Frightened animals rushed past the rails, hooves pounding the earth a metre from where I stood, their open-mouthed panic, steaming bodies and wide-eyed fear palpable. Pick-up men rarked them up, shouting, whipping.
That most of the animals used open-mouthed breathing indicated intense anxiety. Under normal circumstances they do not do this. Slammed, tripped, flipped, strangled, twisted and chased, with while stress hormones adrenaline and cortisol flooded their bodies. Blood tests would show this.
Rodeo is banned in many countries, and condemned by animal welfare groups throughout the world. This is because of the distress the animals show. Some of the injuries include severed windpipes, broken legs, broken necks, paralysis. Many suffer sore muscles and strained ligaments, as we would under such circumstances. The vast majority of injuries are unknown because each animal does not receive a thorough vet check and some head off to the meat works soon after, no one knowing what they suffered.
At Warkworth the announcer claimed flank straps are "fully sanctioned and approved and built under the watchful eye of the SPCA". This is not true. A large group of maybe 50 or more children - some very small, accompanied by parents - chased a group of sheep into a corner. Children of the rodeo learn early how to frighten and dominate animals for fun.
Newspapers are complicit in the abuse, with photographs of animal suffering accompanied by a brief, chirpy commentary along the lines of "a good day out had by all". It passes as something innocuous. It is not.
That we need to subjugate, dominate, subdue and overpower animals for entertainment, for something to do, for fun, is, when you stop to think about it, very odd. When an individual torments animals, frightening and hurting them, we are suspicious, instinctively knowing something is wrong. When we do it en masse we make it legal and call it "sport".
Rodeo is, without doubt, a theatre of cruelty. The animals tell the truth of rodeo. It's time to read the animals and stop this abuse.
Lynn Charlton, from Western Springs, attended the Warkworth and Huntly rodeos.
Debate on this article is now closed.