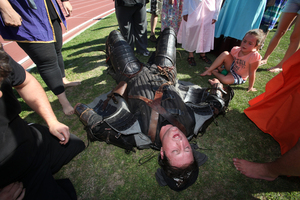 A Tauranga medieval combat specialist reckons he deserves a world record after enduring one of the most gruelling experiences of his life.
Charlie Tapsell jogged and ran 5km in a 40kg suit of armour around the Tauranga Domain athletics track on Saturday.
"Failure was not an option," he said once he had recovered from the ordeal.
Despite the heat and weight of the armour, he managed to sprint the last 100 metres to clock up a time of 54 minutes and 10 seconds.
"It was the final sprint that killed me. There was nothing left in the tank, I wanted to see how quickly I could do it."
Mr Tapsell wasn't sure if there is a world record for running in a suit of armour and thinks that maybe his name could be the first in the record books. He's just crossing his fingers that someone filmed it.
"It is definitely right up there with the toughest things I have ever done."
He ran with two other medieval combat specialists, Matt Daley from Christchurch and Rachel Forrest from Wellington, who also wore armour but not as heavy. Mr Daley, wearing light gear, did the run in under 30 minutes and Ms Forrest did it in 49 minutes.
"But she's ridiculously fit."
The three runners raised $1000 to help get the New Zealand team to the international historic medieval battles tournament in France in May.
Mr Tapsell said he drew a lot of strength from the 15 people who were there to support him, including one friend who ran beside him in light armour for three or four kilometres. The run took place mid-morning.
Mr Tapsell is the Kiwi team captain and the master of arms and captain of the Tauranga-based Northern Horde Medieval Combat Club. They train at Memorial Park and draw a few curious looks from the uninitiated. He first witnessed medieval combat at a Whangarei A&P show. "Even as a kid I was interested in that sort of thing."
Authenticity is the hallmark of the battles. "The international event is serious stuff and battles are full contact to submission."
For more articles from this region, go to Bay of Plenty Times