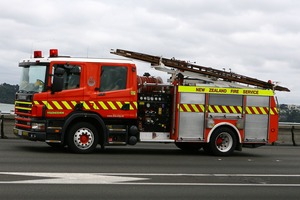 A Masterton mother and her three children are homeless after escaping a fire that broke out while they slept yesterday morning.
Station officer Gary Beban said the woman and her children had fled their burning home by the time the first of three fire crews arrived at the scene soon after 8am yesterday.
He said the four had escaped the blaze uninjured and firefighters had also helped a disabled woman escape unharmed from an adjoining unit.
"They were asleep when the fire broke out but the mother and children were all outside by the time we got there."
The woman declined to comment yesterday morning and it is understood the property owner has rehoused the family at a Masterton motel.
Mr Beban said the first fire crew to the scene had extinguished the blaze in less than 10 minutes and prevented any major structural damage to the two-bedroom home.
The unit was otherwise gutted in the blaze, which had burned hot enough to ignite furniture in a nearby courtyard.
Gib board had kept the fire from spreading into the ceiling and walls, Mr Beban said, although the furniture, appliances and belongings in the unit had been reduced to ashes. He was not certain if there were working smoke alarms at the home.
Police were at the scene late yesterday morning and a fire investigation also had been launched into the cause of the blaze.
Mr Beban said a 111 call had been initially fielded about smoke in the area of the fire and a passerby had gone to the station and reported the blaze as well.
He welcomed the second alert, he said, although calling 111 was the preferred way of reporting an emergency.
Next door neighbour Sonya Bartolic said the blaze had been frightening for her and her three young children.
"There were flames breaking windows and black smoke everywhere. It was scary. But the firefighters went straight in and checked for people and put the fire out in minutes. They were awesome."
For more articles from this region, go to Wairarapa Times-Age