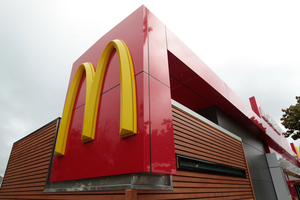 Staff at an Auckland McDonalds are receiving support after a man with a gun jumped the counter in the early hours of this morning and ordered he be taken to the safe.
The man came through the front doors of McDonald's on Great North Road in Grey Lynn just before 2am, with a long barrelled firearm.
McDonald's spokesman Simon Kenny says staff co-operated.
"The restaurant manager has given him some cash out of the safe and then he's fled across the car park and we understand that there might have been someone waiting for him in the car."
Mr Kenny says one staff member has been treated for minor injuries, after the gunman hit him with the end of the firearm as he was being led to the safe.
- nzherald.co.nz with Newstalk ZB