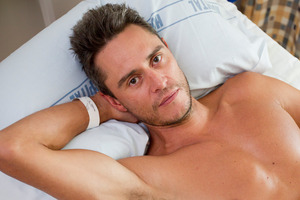 A triathlete who was seriously injured in a crash is disgusted that organisers of the Ironman event in Taupo have rejected his bid to transfer his entry until next year's race.
"I think it's s***," Glen Cornwell said of Ironman's decision on Friday to instead offer him $150 back from his entry fee of more than $800 for the March 2 race. He has competed in eight Ironman races in New Zealand and overseas.
The 38-year-old Grey Lynn architect and father of two was hit from behind by an SUV while cycling in the Waitakere Ranges on January 29 about 8am.
He was pedalling about 16km/h east and uphill on the side of Bethells Rd when the SUV crashed into him.
The vehicle was said to have been travelling about 40km/h and the impact threw Mr Cornwell up a bank to the left of the road. He was knocked briefly unconscious and suffered lacerations to his liver, which have since resolved, tears to ligaments in his lower back and fractures to one vertebra.
He had surgery at Auckland City Hospital to bolt the damaged vertebra to the one below it with a plate and hopes he will be well enough to start training in six weeks' time.
He understood the police were considering charging the driver with careless use of a motor vehicle causing injury.
"He stopped up the road and came running down, just beside himself, freaking out, not knowing what to do. He asked me my name, he kept saying 'Sorry sorry', then he kind of held my hand and he said, 'Stay with us', like I was going to die or something."
There was no cellphone coverage but other drivers stopped and someone phoned for emergency services from up the road. Mr Cornwell said he felt sorry for the driver, who had expressed remorse. He was thought to have been blinded by sun-strike, but Mr Cornwell said drivers in that situation should slow down or stop.
However, Mr Cornwell has only scorn for the Ironman organisation.
"They promote it as being all for the athletes, but it's more of a business trying to make money and the athletes are how they make their money."
The Ironman website says entrants are eligible for a partial refund of $390 for requests received by December 31 and $150 for requests up to January 31.
Mr Cornwell said Ironman should be able to judge cases like his as exceptional. He urged the organisers to consider arranging a withdrawal insurance scheme, which he said was available for some overseas events.
Ironman's New Zealand manager Janette Blyth said that more than one in 10 entrants pulled out "and we cannot place a different weight on the varying circumstances that force a competitor to withdraw".
Ironman Asia Pacific's chief financial officer David Ray said the agreement was clear and many costs were incurred before race day, preventing a full refund or entry transfer.
"We are not doing that to be mean-spirited."
He said withdrawal insurance would be investigated.