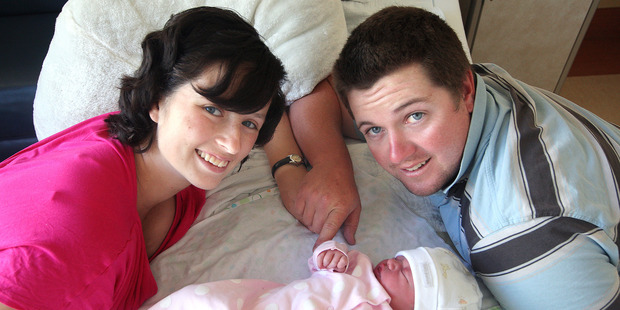 A volunteer ambulance officer delivered his wife's baby in a car on the side of the road yesterday.
Chris Roberton and his wife Ashleigh were about half an hour's drive away from Rotorua Hospital when Heidi Maree decided she couldn't wait any longer.
The Mangakino couple live about an hour's drive from the hospital.
Ashleigh went into labour with her first baby about 3am and the expectant parents were advised by their midwife to stay home for a while longer.
"I thought I had time to get the cows in, but it turns out I didn't really have that time so I had to quickly come back," said Mr Roberton, a dairy farmer and volunteer ambulance officer.
The contractions started getting more intense and about 5.30am they decided to drive to the hospital.
But about halfway there, Ms Roberton told her husband "the baby's coming".
They pulled over and Mr Roberton said he could see the baby's head crowning.
An ambulance was called but Heidi couldn't wait, and was delivered by her father as her mother lay in the front seat.
"Once I got my head together, training kicked in, and I was speaking with one of the call-takers at the St John medical centre as well," Mr Roberton said.
- APNZ