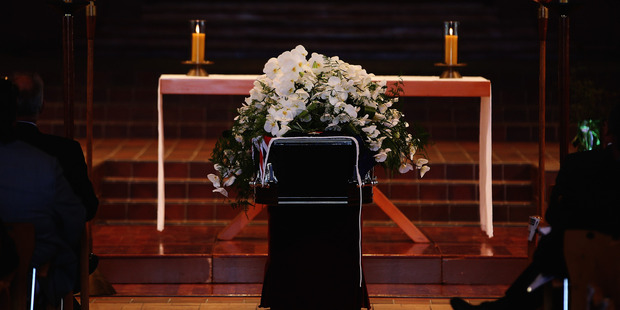 Peter Beavan's eulogy
Paul Holmes. Sir Paul Scott Holmes. What an extraordinary man. What an extraordinary a life. I can picture him now, standing on the steps up to the Pearly Gates , microphone in hand, waiting for the really big interview.
A few years ago I went to a test match in Wellington with Paul. We wandered down to Courtney Place afterwards to celebrate the All Blacks win. It became a somewhat large night. At some time in the small hours we were making our way back to our hotel when we stopped in a bar for a nightcap. Jerry Collins the all black walked in behind us and soon after through the haze across the bar I noticed Paul and Jerry in a clinch. It could have been an embrace and it could have been a headlock. I am thinking this night could end quite badly. Jerry is a big boy. I started dreaming up a plan to extricate Paul from Jerry's clutches when fortunately they separated and Paul came back to his seat. I asked him, "what was that about?" Paul said, "Nothing really. Jerry was just telling me that their family used to watch the Holmes Programme and one night his father pointed at the TV and said, "Son, there is a white man you can trust."
This conversation came a few months after the cheeky darkie episode, which was a low point in Paul's career. It illustrated a couple things:
• anyone who listened to Paul knew when it comes to a person's skin, Paul was colourblind. Despite the controversy he never had a racist bone in his body
• and secondly everyone on both sides of the camera had an expectation that Paul would be fearless but fair minded in dealing with any subject. This was an expectation that Paul invariably lived up to.
Paul was born on 29th April 1950, the eldest child of Chrissy and Harry Holmes. The early years were spent in a small home built by Harry at Haumoana, a coastal settlement near Hastings. Harry, who had been a stretcher bearer during WW2, had bought a small block of land with a rehab loan. He grew tomatoes. Paul and brother Ken lived in what Paul once euphemistically described as the east wing of the house. Chrissy worked in a local law firm where she was a wiz with numbers, a skill that was not imparted to her elder son.
Paul and I first met in the corridor of B Block at Karamu High School where we shared adjoining lockers. Karamu was a coed school. It was nearly brand new. It only had us and a fourth form. The teaching staff were all fresh faced and looking for new adventures like us. It was a good place to learn.
Paul had a confident grin and lots of energy. Soon we were good mates. In fact there were three of us, the other being Mike Williams. Who would thought in those early days that our cheeky little friend was destined to become this country's leading broadcaster and the school's first knight! Already in those early days the three of us were avid readers. We studied history and English and read books on politics. In fact Paul read on a huge range of subjects throughout his life.
Paul was intelligent, but not an academic. He wasn't much good at sport. His mind was willing but his body seldom obliged. Of all places, he played prop for Haumoana primary, I suspect because they could hide him in the scrums.
Paul's real interests at school all revolved around a stage. He was in the school play. He entered the speech competition. The three of us, Mike, Paul and me, formed an unbeaten debating team. School C , University Entrance and Bursary flew by with varying degrees of success. Paul only got 37 marks in Bursary English. He was distraught for a few days and harboured evil thoughts about the marker.
So on to Wellington and Victoria University in early 1968.
I roomed with Paul that first year in Weir House. There were lots of smart young men from schools like Wanganui Collegiate and Kings College. We three working class boys from Karamu told them we were from Karamu Collegiate. There were also young women. In short skirts. There were cigarettes. There was drink and there were hangovers. There were demonstrations. These were the days of the Vietnam War and racist tours. Paul fell in love with Simon and Garfunkel and developed an interest in politics. He wrote a letter to Duncan Macintyre the deputy Prime Minister when he lost Hastings in the General Election and got a courteous reply. The Grand Hotel in Willis St became our favourite watering hole. One day Paul got arrested for directing traffic on the street outside. Another day he found a wheel barrow on a building site. He insisted on buying a ticket for it and taking it up the cable car, where he released it into the Botanical Gardens.
Paul studied law with me in his first year. In his mind he saw Perry Mason and a career at the bar. Although he passed legal studies, by year two, the courtroom had become too small a stage and he threw himself into an English major instead.
Downstage, the local professional theatre, beckoned. He peformed in several plays and then with John Clarke alias Fred Dagg and Jeanette McDonald of Lynn of Tawa fame, and John Banas the master mind, Paul formed a late night review called knackers. They used to come round to our flat to polish up their scripts. I don't think I ever laughed more in my life than during those visits. The show started with Paul walking on stage dressed only in his underpants, to read the late night news in briefs.
These were fun times, but Paul did not particularly fancy a life on the breadline. Having completed his studies and after the mandatory trip abroad, he went to radio school and got his first job in Christchurch. It was during this time that he used up the first of his nine lives when he broke his neck in a car accident and lost the sight of one eye.
In 1975 he was DJ on the first all night radio show. A late night call to the Arch Bishop of Canterbury was not appreciated at Radio House. Paul received a letter from the Director General saying "I have decided you should not be employed on air for radio NZ in the future." The letter was framed and still holds pride of place in the downstairs toilet at Mana Lodge.
Thus began a ten year exile. Paul travelled and worked on air in Amsterdam, Vienna and Swansea. Like many others who travel, his time abroad made him proud to be kiwi but widened his perspectives on both people and events.
On his return to NZ he worked in Wellington before being offered a job in Auckland at what is now Newstalk ZB hosting a new talk format. Mike and I were both living there at the time, so it was a wonderful reunion. It was tough initially, and only the people at Radio NZ know how close they came to abandoning the experiment Luckily the ratings slowly but surely started to recover and before long, Paul's programme had daylight between itself and its nearest competitor. And I suspect he wasn't slow to let some of them know. TVNZ also saw an opportunity to use Paul after the evening news and the Holmes programme was born. Soon he had captured a good chunk of the nation's attention every morning and night. He worked bloody hard and set exacting standards for those around him. He won more than 20 journalism awards, most of them voted by his peers.
In between he found time to compete in Dancing with the Stars, hosted several episodes of This is Your Life, did a memorable Intrepid Journey to Yemen, where he adopted Nigel the Goat, record a platinum disc and write an autobiography. Then there was the helicopter crash, a couple of close encounters with the ground in his Boeing Steerman plane, a marriage break up, various family adventures. And then Deborah, who was so good for him. Oh and I forgot the prostate cancer and Special Olympics and the other causes he was passionate about. Half the time, it seemed that Paul WAS the news. And happily and shamelessy he milked it.
Time was always the enemy. There were moments of guilt about the amount of time spent with Millie and Reuben.
Paul did not start life in a Ferrari body and inevitably his health suffered. In the last few years, there was still the Herald column, Q and A, and Saturday morning radio. I always told him his best skill was his writing and encouraged him to try the great NZ novel. But telling the story of real people was what motivated him.
Paul looked forward to years of entertaining his friends and happy gardening along with the occasional glass of buttery chardonnay in the little paradise he and Deborah have created at Mana Lodge. I looked forward to it also, because Paul had, like me, returned to his roots in Hawkes Bay. As we know, it was not to be. The last months were difficult. On behalf of Paul's circle of friends I acknowledge and thank Deborah, Millie Reuben and Ken for their love and devotion during this time.
Paul's story would not be complete without talking about Holmes the man. The father. The husband. The friend. The cousie. The broadcaster.
Paul's capacity to love knew no limits. He could find something interesting and special in everyone he met, regardless of their station in life. New Zealanders invited Paul into their homes and in return he opened his heart to them. And they loved him for being honest about his weaknesses as much as they admired him for his journalsitic skill. His love took many forms. When he was living in Europe, he had a German girlfriend called Heidi. Some years later he received a post card. Addressed to Mr P Holmes, Wherever you are, New Zealand. The postcard read Dear Paul, Last night I dreamed of you and had a nice orgasm. Thank you. Regards Heidi.
Those of us who were privileged to watch the unfolding relationship between Paul and Millie in the last months of his life can have no doubts about the power of Paul's love.
The secret of Paul's success as a Broadcaster lay in his beginnings as an actor. Paul had learned the art of telling a story and brought a real sense of theatre into his work as a journalist. He pioneered showmanship as a legitimate part of bringing us news. I think of him as a blend of Oprah Winfrey and Larry King. And it seemed not to matter whether it was a camera, microphone or keyboard. He had mastered bringing us news with personality.
Paul had a passion for flying: It nearly shortened his life several times, but in an ironic way it also prolonged it. His first bout of prostate cancer was discovered only because he was required to sit a medical for his pilot's licence. That was thirteen years ago. His love affair started with Biggles the flying ace. Paul read the whole series. Later he owned his own plane, the Boeing Steerman, which Biggles might have flown better than Paul. Then there was his last major work, Daughters of Erebus. Paul's effort to exonerate captain Jim Collins and right an injustice became an obsession for 12 long months. The book exhausted him but led to a strong bond between Paul and the Collins family.
When I visited Paul two days after his investiture, he was giving what became his last interview with Janet McIntyre. Beside me on the couch were two bound volumes of letters congratulating him on his knighthood. There were hundreds and hundreds of them. As I leafed through them words started bouncing repeatedly off the pages at me. Integrity, compassionate, empathetic, quirky, humane, tenacious, dedicated, inspirational, entertaining, a good bugger, and quite a few comments about the Doggies. Paul was all things to all people. A kiwi icon.
Sir Paul Holmes is one of those rare people who made a positive difference to our daily lives. His many friends both here today and around NZ mourn his passing but celebrate his life. A life that at 62 years was all too short. Go gentle, my friend.
Mike Williams' eulogy
A bit more than a year ago I got a phone call from Paul Holmes. He was cruising around his estate in a quad bike. "What" he asked me, "is the French word for a gate"
I could only think of the word porte, normally translated as door. By reference to an on-line dictionary, I confirmed that this indeed was also the French word for a gate.
Aha, said Paul, here was further evidence of the subtlety and superiority of the English Language. If you can't tell a door from a gate, he told me, you could end up with sheep in your living room.
This doesn't seem to be a major problem in France, but the conversation says something important about Paul. His craft was words - on the Radio, Television and on paper. And he was good with words.
Just before Christmas, we all drove up the big valley behind his and Deborah's place to visit one of the few remaining swimming holes in the Tukituki River. On the way back his mind wandered and he pronounced himself as "doolally".
Later that day, after he'd had a nap he found that the word "doolally" came from Deolali, the name of a town near Mumbai which hosted a mental hospital for soldiers during the long British involvement in India.
He revelled in the English language and he was particularly fond of the very old words, often monosyllables which packed immense meaning - words like good, best, yet, son, grief and love.
Brother is a word that comes down to us from the ancient Indo-European tongue. It's the same in Sanskrit, Urdu, Hindi, Danish, Persian and German.
Paul and his brother, my friend Ken, had what is best described as a robust but enduring relationship. They were always there for each other, though the bond could be strained.
Paul arrived at school one day and had difficulty sitting comfortably. This was because Ken had spotted his white buttocks as Paul attempted a number two on the banks of the Tukituki River and plugged him with a BB gun.
Years later and after a gruelling and physically challenging shift at his job, Ken was asleep in the bath at the Mt Victoria flat they shared.
Paul effected Ken's very rapid revival by pouring a jug of cold water into his wide open mouth.
Girl is another very old word.
Paul and I were blessed with the girls that adopted us or got lumbered with us.
To hear me today are two of my girls, Rosie and Judith, They doted on Paul and he was equally blessed with Hinemoa, Millie and Deborah.
To Hinemoa, it was a rough ride we know, but the two of you exchanged and nurtured two precious gifts, Millie and Reuben.
His fierce love for these girls made a real difference to uncountable lives.
The drug methamphetamine or "P" was legally sold, mainly at first to rich kids, as a high with no downside. Many were innocently hooked.
It was Paul's determination to save parents from this nightmare that saw him spotlight the problem and campaign against the awful damage that was happening under our noses.
If you have a look at the most recent Massey University drug monitor study, you'll see that the epidemic is waning. Paul had a lot to do with that.
He had the common touch, was popular and genuinely interested in politics.
At one point he called out of the blue me to state his intention to run for the Auckland Mayoralty. He wanted to draw on my experience in Dame Cath Tizard's three successful campaigns and appointed me, unasked, as his campaign manager.
His political aspirations were quickly terminated by his bosses at TVNZ, but not before I'd commissioned a poll of Aucklanders.
I can reveal today, that the survey showed that he would have been competitive in the Auckland political market at that time and with a good campaign would surely have won.
He had a mad, outrageous streak and yesterday to symbolise this aspect of his complex character, we left one of the casket lid screws just a little loose.
At a seventh form party he announced to the assembled company "I have proposed to Alison King but she has spurned my love".
In 1999 when I met him in the foyer of a Wellington Hotel after he'd conducted a Leader's debate, he was loudly and publicly denouncing the quality of the pornography on offer.
He had an extraordinary good memory.
Nearly fifty years ago I told Paul of a humiliating incident.
On leaving the fish and chip shop of a Friday evening, I spotted a very comely young lady in a car across the road smiling at me in a most inviting fashion.
I was entranced and smiled back.
As I got into dad's car I noted that her beautiful smile had turned to outright mirth. She was laughing he head off.
Somewhat bemused, I reached for a steering wheel to find that it wasn't there.
This was because I was in the back seat
Forty years later I floated some hare-brained political scheme with Paul and he replied "Are you sure you're not looking for the steering wheel in the back seat again".
Much of what I want to say about Paul, I've already said in piece in the Herald on Sunday.

Paul read that article and he called me.
He was very weak by that point but there was still strength in that so familiar voice.
He reached back to those old words.
What I'd understood about Paul, he told me, was that "good" wasn't good enough. "We never settled for good, we went for best".
Best.
So let me leave that old word hanging over a life short but wide.
Sleep well, my dear old friend, grief is the price we pay for love.