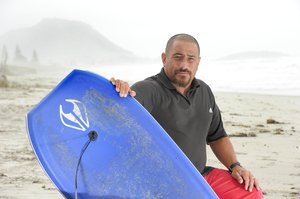 A young boy was rescued in the nick of time after being dragged 100 metres out to sea in 2m swells rolling into Arataki Beach at Mt Maunganui.
Arataki man Terry Smith, 45, was with his two youngest children at the beach about 4pm on Saturday when he saw a 7-year-old boy being swept out to sea.
"I looked up and saw these other kids about 50m away. I saw this little boy getting swept out, and I saw this other father run out.
"He got the boy on his shoulders and started to swim in, but the kid started climbing up on his head and pushing him under,'' Mr Smith said. "He fell off and the father looked like he was in a bit of trouble himself, and he started to swim in.''
When the man, who had been at the beach with his daughter, gave up the rescue, Mr Smith stripped off his T-shirt, grabbed a boogie board and took over.
The Arataki Primary School student was about 50m out and managing to stay afloat, despite a swell of at least 1.5m.
"I just kept yelling out to the kid, `Hold on, mate. I'm coming, I'm coming'. The waves kept pushing me in and him out,'' Mr Smith said.
"I could just see the top of his head and eyes. His eyes were looking at me and they were just huge, like saucepans. I have young kids. That was what was going through my head, my own kids. I was quite worried for him.''
By the time Mr Smith reached the boy, he had been dragged about 100m out behind the waves.
"He was under a lot of stress. He jumped on to me. I had to tell him, 'Get on the boogie board, get on the boogie board'. I grabbed him and put him onto the boogie board, and started to swim back in. He realised what had happened and he started crying.''
The pair made it back to shore about half an hour after the ordeal began, Mr Smith said.
The woman watching the group of boys was relieved to have the young boy back on dry land.
"She thanked me thoroughly. She didn't know what to do. She was really worried. She was very, very apologetic and grateful,'' Mr Smith said.
It is not the first time Mr Smith, a keen surfer, has rescued someone but it was the most harrowing ordeal yet.
"I've pulled a lot of people out of rips but not to this extent. And no one this young. I was really determined to get out to him.''
Mr Smith said he had to rescue someone about once a year.
"I don't like to do it but your adrenaline just rushes, and you just get in and do it. It was a scary experience for me. That was probably the worst one I've had to do,'' he said. "Being a father I just keep an eye on everyone and try to help out where I can.''
Arataki School principal Dene Langley said staff would be reminding students of the importance of water safety after the close call.
"It's a bit of a wake-up call, because it's so close to home,'' Mr Langley said.
The big swell made for a busy weekend for Mount Maunganui surf lifeguards. Lifeguards rescued three people caught in a rip near Leisure Island on Saturday.
Also on Saturday, 54-year-old Vivian Fosser Telfar, a New Zealand woman who had been living in Norway, drowned while swimming with friends and family near Sutherland Ave.
For more articles from this region, go to Bay of Plenty Times