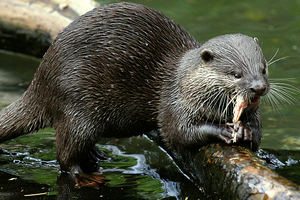 An English couple who spent a month visiting their daughter in New Zealand have been devastated to return home and discover a rogue otter has eaten 200 of their prized pet fish.
Linda and Alan Brown's 6000-gallon pond contained about 150 goldfish and 50 other fish - some of which the couple had owned for 25 years, according to the Daily Mail.
The pond was home to goldfish, koi carp, mirror carp and ghost carp - some weighing up to 25lb and worth up to NZ$18,500.
But when the couple, both aged 60 from Thetford, in Norfolk, returned home after a month-long visit to see their daughter in New Zealand last week - they found that an otter had treated itself to a free meal.
A neighbour cleared up the half-eaten, rotting fish that were left around the pond.
Now, the Browns have removed the pond because they don't want to give the otter "another chance to kill or mutilate any more fish".
"It was devastating for us because they were so beautiful and had been a part of our life for 25 years," Mrs Brown told the paper.
"We had a good fence around the pond, a net over the top, but there is no way you could stop an otter getting in.
"Otters are cute, they really are, especially when they are lying on their backs and playing with the fish.
"But I feel the people who released these otters back into the Norfolk rivers haven't looked into this enough."
- APNZ