Government change 'tinkering around edges of act and creating new ways of withholding information'.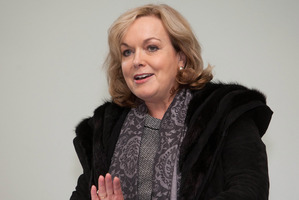 Proposals to change the Official Information Act are at odds with the Government's claims it is committed to openness and transparency, the Green Party says.
Justice Minister Judith Collins yesterday announced a series of changes to the OIA and the Local Government Official Information and Meetings Act in response to the Law Commission's recently completed review of the law.
She said the Government planned to extend the act so it applied to the administrative functions of the courts, including information about expenditure, resources and statistical information about court cases.
Other changes include "new protections for commercial information", clarification of how the legislation applies to commercially sensitive information and new protections for third-party information.
"The Government is committed to openness and transparency, streamlining processes and reducing red tape for agencies, businesses and individuals," Ms Collins said.
But the Greens' open government spokeswoman, Holly Walker, said her party was disappointed with the proposed changes. "The Law Commission recommended a substantive review and possible rewrite of the act, but instead the Government is tinkering around the edges."
She said the Government had simply picked out the recommendations that suited it, "like creating new ways of withholding information".
"At the same time, it is ignoring recommendations that it doesn't like, including extending the OIA to cover Parliament." That would have greatly enhanced the transparency of government decision-making, she said.
Ms Walker was also concerned about the changes around commercial information, given Chief Ombudsman Beverley Wakem last year said there were plenty of safeguards in the act to protect against disclosure of commercially sensitive issues.
Ms Walker pointed out that the Office of the Ombudsman, which is responsible for monitoring compliance with the OIA, was "completely overloaded".
"The Government should have either considered the Law Commission's recommendation to create a new standalone office to oversee compliance with the OIA, or committed to better resourcing the Office of the Ombudsman."
Ms Walker said transparency should be the paramount consideration when looking at any change to the OIA, but the Government's proposals failed to do that in any meaningful way.
"Any journalist or anybody who's made multiple OIA requests will know there are quite a lot of ways in which information can be withheld and I don't think we need any more."