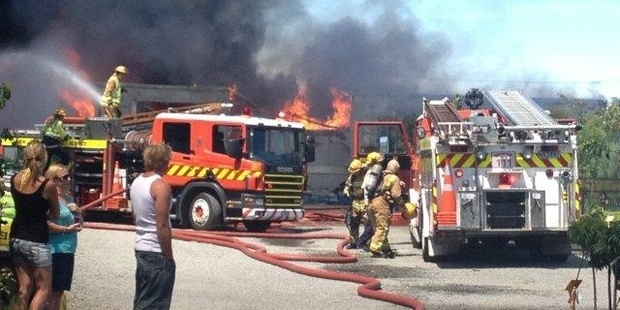 A massive fire which dominated the Masterton sky yesterday afternoon destroyed about $250,000 worth of vehicles and equipment in a blaze that erupted while lunchtime customers browsed the aisles at a garden supply business.
A neighbouring house was also damaged, and nearby vehicles threatened.
GardenBarn owner Laurie Hatchard said the fire broke out in a storage and work shed at the rear of the High St business just after noon yesterday.
The fire destroyed a tractor, forklift, a bagging-potting machine and an office computer containing business records that were altogether valued at about $250,000, Mr Hatchard said. Planting goods such as insecticides and liquid seaweed and a worker's car in the shed also went up in flames.
Three employees and Mr Hatchard were working and up to a half dozen customers were on-site when the fire erupted.
Mr Hatchard, who opened the business 13 years ago, said he was unaware that for a brief time there were fears he had been caught in the fire.
He had been next door at a growing area when a woman worker hailed him on the shop public address system, he said, and had responded as quickly as he could when called.
"I heard my name being called over the loudspeaker. It just took a few minutes to get over. But there was no threat to any life at all. It's only property we've lost."
Customer Tracy Amos was in the shop when the fire broke out.
"They kept calling Laurie ... they couldn't find him," she said.
Her vehicle was by the shop, but her husband Martin managed to move it in time - although they were then blocked in by fire engines.
Neighbour Andrew Dench was one of many gathered in a nearby street watching firefighters tackle the blaze. "I just smelled smoke from my lounge and heard a couple of bangs," he said.
"I looked out the window and it was black and flames."
Station officer Doug Flowerday said a neighbouring house sustained a small amount of damage.
He said the fire didn't appear to be suspicious, although the fire investigator was due to arrive from Wellington yesterday.
He said nobody was in the building at the time and nobody was hurt.
"Fires do ignite easily in this weather ... so we're just asking everybody to take a lot of care."
For more articles from this region, go to Wairarapa Times-Age