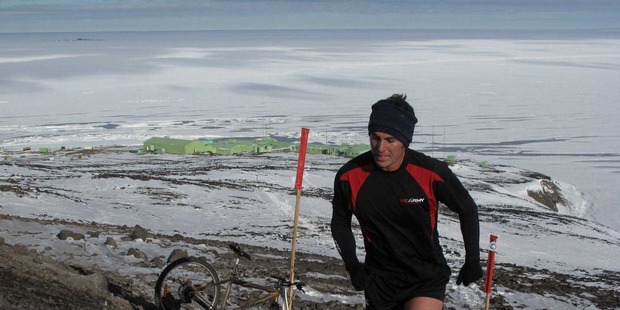 Kiwis in Antarctica have braved sub-zero temperatures, snow flurries and early morning wake-up calls to take part in a 12-hour relay for cancer awareness.
The relay overnight was the first in the Cancer Society's annual series of Relay For Life events, which are taking place across New Zealand over the next two months - and it was the first ever to be held on the ice.
A group of 35 participants from Scott Base and the NZ Defence Force wrapped up in cold weather gear as they took turns to walk or run the 1.65km Hillary Track.
The track began straight up a hill behind the base, with each lap involving an elevation gain of 90 metres.
It was made even more challenging by the huge amounts of snowfall on Ross Island recently, with the snow shin-deep at some points despite staff pounding out the track in advance.
Light snow flurries, cloud cover and temperatures as cold as -12C added to the challenge.
But by this morning (Sun) the cloud had cleared, and the nearby mountains were bathed in light from the sun, which never sets at this time of year.
Two to three people took to the track at a time, with participants taking roughly 15 to 20 minutes to walk one lap.
Some people set alarms to get up for their allocated time on the track - with one participant waking at 3.30am to take part.
At the end of each lap, at the Hillary Field Centre, participants passed on their batons and marked their laps on a whiteboard.
The crew at the field centre passed the time playing table tennis and listening to music.
By the end of the relay at 7am today 139 laps had been completed - a total distance of 229km. Participants had also made a combined vertical climb of 12,510m - the equivalent of climbing Mt Erebus more than three times.
The batons used by the Scott Base staff will be returned to New Zealand for use in some of the 21 Relay For Life events being held in communities throughout the country.
More than 20,000 people are expected to take part in the relays from February 16 to the end of March.
Relay For Life is a global event, held in more than 20 countries, with the aim of raising awareness and funds to support cancer support services, education and research.
- APNZ