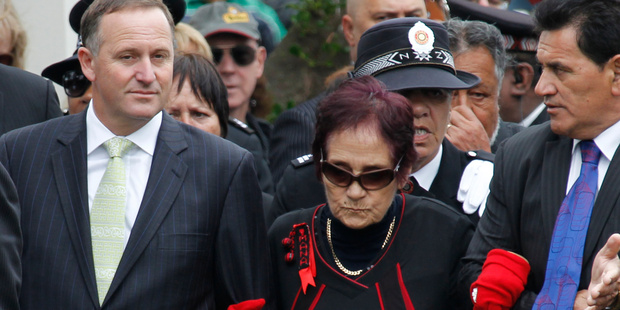 Ngapuhi leader David Rankin says there will be "total chaos" at Waitangi on Wednesday if Titewhai Harawira "tries to bully her way in as she has in the past".
Mr Rankin said there was growing confusion over who would lead Prime Minister John Key onto the marae at Waitangi this week, following moves by Ngapuhi trustees to oust Ms Harawira from escorting dignitaries.
Mr Rankin said Ms Harawira's actions were "culturally inept" and there are concerns she will disrupt Waitangi Day ceremonies if she is not allowed to keep the role.
Mr Rankin, who is the head of Matarahurahu hapu, said the "chaos" that would be created if Ms Harawira tries to "bully her way in" may "erupt into violence with Maori pitted against Maori".
He said it was culturally wrong for someone who belonged to a marae to be welcomed onto it, and Maori "across the country ... laugh every time the Te Tii marae embarrasses itself by throwing out protocols because they feel threatened by the Harawiras' stand-over tactics".
"Titewhai has no clue what she is doing. Her culture is based around media coverage and radicalism, not what is true Maori tikanga. To be welcomed onto your own marae as a guest goes completely against our culture," Mr Rankin said.
"There are plenty of kuia from other areas who could fulfil that role and come on with John Key as a guest. That is the correct protocol."
- APNZ