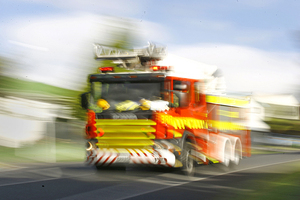 Firefighters have managed to subdue the massive fire that englufed a Masterton garden centre earlier this afternoon.
Emergency services were called to the Garden Barn on High Street around midday after flames and thick black smoke began pouring out of a storage shed.
Jim Harris, owner of the Acorn Estate Motel, which is right beside the garden centre, says he was working outside when all of sudden he saw a lot of black smoke.
"It's in a shed, not sure what was stored in the shed - fertiliser of some sort - but I think there must be some chemicals or something in there because there were a few minor explosions."
Around 20 firefighters and four fire engines attended the scene.