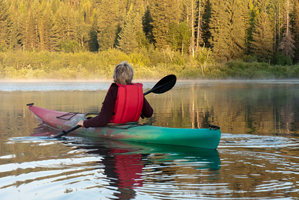 A German visitor who disappeared while kayaking on Lake Hawea 17 months ago did not take appropriate precautions for the potentially hazardous fishing trip he was undertaking, a coroner has ruled.
Following an inquest in the Alexandra Coroner's Court on October 25, Otago Southland coroner David Crerar has released his finding into the death of Rene Weisswange, 25, who was employed as a chef at the Lake Hawea Hotel when he vanished on the lake on August 29, 2011.
It was believed Mr Weisswange planned to kayak about 9km across to Timaru Creek from a boat ramp near the Lake Hawea dam, where he launched about 10.30am that day.
He was not wearing a life jacket and his borrowed kayak was considered unsuitable for the "strenuous" open-water paddling trip.
The last contact with Mr Weisswange was a text message he sent to a friend at 12.25pm on August 29, stating he was "on Lake Hawea with my kayak and will try to catch the big trouts [sic] now".
Confirmed sightings of a kayaker on the lake included one at 1.30pm - about 600m off the western shore heading towards Timaru Creek, and at 4.15pm - the flashes of wet paddles reflecting off the sun were seen about 3km from the southern shore.
When Mr Weisswange did not arrive for work at the hotel the following day an extensive search was initiated, which continued for several days.
His kayak was found washed up on the beach but his body has not been found.
The kayak was presumed to have capsized on the return journey when northwest winds were causing increasing wave action on the lake, causing Mr Weisswange to fall into the water, Coroner Crerar said.
"Although his swimming ability was unknown ... the water temperature of Lake Hawea in August would be cold and the choppy action of the water surface would have made it difficult for any swimmer to survive for any great length of time."
However, had Mr Weisswange been wearing a life jacket he might have been able to reach the shore after the kayak capsized.
Mr Weisswange should have told somebody his precise intentions and his return time, Coroner Crerar said.
"It turned out to be more than 24 hours before the alarm was raised ... if Rene Weisswange had told appropriate friends, a search and rescue operation may have been able to be undertaken earlier with the possibility of a successful rescue."
Wanaka police search and rescue co-ordinator Senior Constable Mike Johnston consulted with pathologist Dr Martin Sage and Queenstown Lakes District Council harbourmaster Marty Black, and established that if Mr Weisswange had fallen from the kayak and drowned, his body was likely to have sunk below 60m to the lake floor and, because of the cold temperatures there, would be unlikely to surface.
Statistically, if a body was going to float to the surface in cold water, it would take 10 to 14 days.
However, continuing searches during this time period found no trace of Mr Weisswange.
Although no body had been recovered, Coroner Crerar had heard no evidence Mr Weisswange's disappearance was deliberate and "this action must be determined as a most remote possibility".
Coroner Crerar recommended a copy of his finding be forwarded to Maritime New Zealand and to the Minister for Transport.
"The Government should take action to ensure that the wearing of life jackets by all persons using small boats in New Zealand be made compulsory and that there ought to be compulsory policing and enforcement of the appropriate legislation."