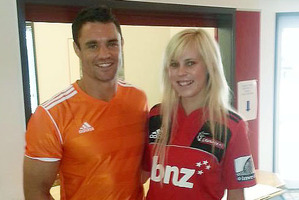 Rugby star Dan Carter is not used to taking the back seat. But on Tuesday he had to take it twice.
When 20-year-old Westport florist Siobhan Patterson learned the Crusaders were in town she made a beeline for the school they were visiting.
Target: Israel Dagg. She failed on that score. He wasn't there. So the Crusaders' fan settled for Carter instead and by the end of the day she had driven the No 10 and three other players 78km to Reefton - with a quick stop to introduce them to her mum, Nicola.
It was a win-win situation.
The Crusaders were taking part in an Amazing Race-type team building exercise and they had split into groups to hitch-hike back to their pre-season base at Hanmer Springs.
They had been in Westport visiting schools and doing other promotion activities ahead of their pre-season opener against the Hurricanes in Timaru tomorrow.
Dressed in a Crusaders jersey Ms Patterson went to St Canice's School.
"I was a bit disappointed that Izzy [Dagg] wasn't there but when I saw Carter it was the next best thing. I gave Carter a hug and asked them where they were going.
He said: "We are going to Reefton."
I asked him if they wanted a ride and he said "sweet".
Carter sat in the back with other Crusaders Shane Christie and Nepo Laulala. Midfield back Ryan Crotty sat in the front.
"We had the music going and we talked about Dan's wedding, his wife Honor and their baby. I also asked them what they thought of girls trying to get their autographs all the time and what their partners thought of it."
Carter said his wife got a bit jealous about it sometimes but she was used to it, she said.
"If Dan didn't have a wife, I would've asked him out ... only because Izzy wasn't there."