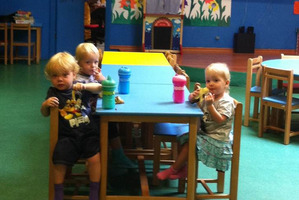 The father of the Kiwi triplets killed in a mall fire in Doha says the prosecution case at a trial to decide culpability for the fatal fire was "fairly limited''.
Nineteen people were killed in last May's Villaggio fire, including New Zealand 2-year-old triplets Lillie, Jackson and Willsher Weekes, who were being looked after at the daycare facility, Gympanzee.
Overnight, a forensic expert from Qatar's Ministry of Interior explained to the court the technical details of how the fire started.
The unnamed fire investigator said it was his team's job to determine the cause and origin of the fire and how far it spread, Doha News reported.
His evidence wrapped up the prosecution case and the trial will continue for the 10th time next week as defence attorneys call their witnesses to the stand, including three employees of the Ministry of Labor.
Father of the triplets Martin Weekes today said he was still shocked that the government's report into the mall fire had not been presented before the court.
Mr Weekes said it was the most scientific piece of evidence into the fire.
"I'm still sitting in shock that the [Qatar] Government's report by the Transparency Commission hasn't been presented, because if this is the basis of changing safety and suchlike for the country based on the lessons they learned from Villaggio, nobody knows what these lessons are because nobody's heard the evidence in court,'' he said.
Mr Weekes said a fairly limited prosecution case had been put forward.
"It hasn't addressed a large number of the issues, it hasn't really put much forensic ... scientific evidence in front of the court - and that's the report.''
At least some of the seven defendants in the case, including two Gympanzee co-owners, four representatives of Villaggio and an employee of the Ministry of Business and Trade, were also expected to give evidence.
- APNZ