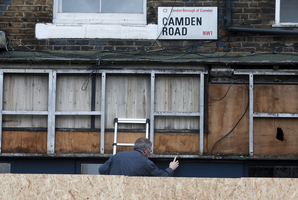 A friend of a New Zealand man killed by a hoarding that fell off a betting shop in London has paid tribute to the young lawyer, saying he was likeable and clever.
Jacob Marx, 27, was walking on Camden Rd, north London, on Monday evening (UK time) when the metal hoarding from a William Hill shop came off in high winds and crashed on top of him, splitting his head open.
Mr Marx, originally from Gisborne, reportedly suffered a cardiac arrest.
He was treated at the scene but died later in University College Hospital, the Daily Mail reported.
Tim Chung, the brother of Mr Marx's girlfriend Natalie, said he met him several years ago when he started dating his sister, and was shocked to hear what had happened.
"He was a really really nice guy. He was really smart and I always saw him as a really nice person," he said.
He learned about Mr Marx's death from his sister, who was coming to terms with the tragedy.
"She seems to be coping all right," Mr Chung said of his sister.
Mr Marx and Ms Chung travelled to the UK last September for a trip of a lifetime, during which they planned to travel extensively, said Mr Chung.
They were living together in London.
Mr Marx's family are understood to be on their way to the UK from Gisborne. The New Zealand High Commission has been providing consular assistance to them.
Mr Marx graduated from University of Auckland and worked at law firm Minter Ellison Rudd Watts from 2007 to 2010 before heading to Sydney.
A written tribute was been left at the scene of the accident, addressed to 'Jacko' and including a New Zealand flag, the Daily Mail reported.
Left among bouquets of flowers, it said: "This is not how it was supposed to go. We had so many good plans and so many good memories. I promise never to forget you."
Witnesses who saw the accident said they saw a man lying on the road covered in blood. When paramedics arrived they attempted to resuscitate him in the back of the ambulance as he was rushed to hospital.
The sign that fell on him may have been weakened after maintenance carried out before Christmas, media reports said.
Police and Camden Council are investigating.
Camden Council community safety spokesman councillor Abdul Hai said: "This is tragic incident and our thoughts are with the victim's family at this sad time.
"Our health and safety and building control teams attended the scene immediately to take the necessary action to make sure there was no further danger to the public from the building," the Daily Mail quoted him as saying.
- APNZ