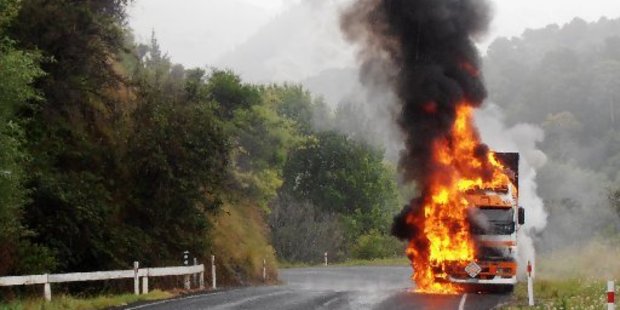 Stories making headlines in New Zealand at noon include a truck bursting into flames, an 11-year-old arsonist and a soaring falcon.
A motorist had a lucky escape when he jumped out of his truck only minutes before it burst into flames.
An 11-year-old boy has owned up to starting a scrub fire at Ahipara.
A hush fell over the crowd at the Otago Taieri A&P Show as a rare native falcon soared over their heads.
A motorist who narrowly avoided hitting a young cyclist was shocked to see she was texting as she rode.
Hair salon customers had to be evacuated mid-treatment when a fire broke out on the roof of the St Andrews shops in Rotorua.
The ice skating rink on The Strand in Tauranga is causing plenty of black eyes, split lips and bruised heads.
Nearly 680,000 sleeping pill prescriptions were doled out to New Zealanders in the year to June 30.
A 15-year-old boy gave first aid to an injured woman and helped searchers find an unconscious, missing man, after a trail bike skidded out of control.
Thousands turned out to see a free concert by The Chills at the Dunedin Botanic Garden.
Could this distinctive house be one of the oldest in Greymouth?
Top trending topics on Twitter in NZ at noon were: #pinot2013, #AusOpen, WOF, FA Cup, #Djokovic, Novak, #Murray and #photography.
Other stories making headlines across New Zealand this morning:
Amandeep's friends shocked, saddened
Music legend here on a mission

- nzherald.co.nz