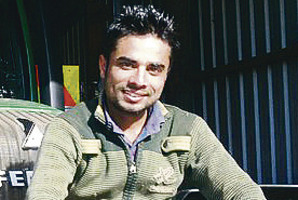 Friends of a man believed to have been murdered initially thought he had been kidnapped and say they had all been prepared to contribute to whatever ransom demand was made.
Police in Gisborne hope to formally identify by tomorrow the body of a man found at the end of Kaiti Beach Road on Thursday night.
It is believed to be that of Amandeep Singh, 22, who had been missing since December 29.
The body was found by people walking along the end of Kaiti Beach Road, a short distance from the city centre, among scrub and small trees at the base of Kaiti Hill - only a few metres from a road.
A post-mortem examination was to be held tomorrow.
A spokesman for the orchard labour contracting firm Mr Singh worked for, who was also his friend and flatmate, said the news had deeply shocked, saddened and worried his friends.
"It is really, really sad. How is this possible," said the man, who preferred not to be named.
"We had all hoped that Amandeep might have just been kidnapped, that he would still be alive, and we were all prepared to make contributions to any ransom demand made.
"We are all worried that something like this could happen to us, because we don't know the reason why this has happened to Amandeep."
Amandeep had just finished studies he was doing as part of his student visa and was looking for a permanent job, the man said.
"We all prayed for him while he was missing and now we are all still praying for him."
Mr Singh's parents in India had decided not to come to Gisborne.
"His cousin from Australia is due in Gisborne in four or five days, along with one of the cousin's close friends from Auckland," the friend said.
Eastern district police crime manager Detective Inspector Rob Jones said police would like to speak to anyone who had dealings with Mr Singh recently.
"He was very well known in the community and had lots of acquaintances. It's very important that we speak to anyone who can shed some light on his disappearance," he said.
Gisborne district councillor Manu Caddie has set up an appeal to assist Mr Singh's family with their expenses.
"We understand his family are not wealthy and we want to show them that the Gisborne community is upset at what has happened," he said.
- APNZ