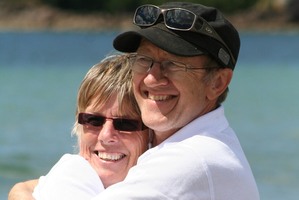 The ten children of a couple killed in a mini-van accident in Kenya on January 15 have paid tribute to their parents at a funeral service at Bethlehem College this morning.

Dr Brian Johnston, 64, and his wife Grace, 57, died when the van they were in rolled into a ditch. A former college pupil, Caitlin Dickson, was also killed, as was Kenyan driver Christopher Mmata. Dickson's funeral was held on Thursday at the school.

The Johnston couple's six daughters and four sons paid tribute to their "unconditionally loving'' parents at the Tauranga school this morning.

"We are so blessed to have known them," said Michael, the sixth-oldest child."God blessed all of us by sharing two of his best with us."

The youngest child, Emily, said Grace had worked to help premature babies in Zambia. "After seeing what she did, I totally want to follow in her footsteps."

Emily said Brian managed to find time for his kids by taking them individually to McDonald's for breakfast. "He was genuinely interested in everything. He loved each and every one of us so much."

The Johnstons were among a group of 19 volunteers working in the East African country as part of a missionary programme.

The Bethlehem School events centre could hold 1300 people but preparations were made for even more mourners to attend.

A number of other students were injured in the crash, and some stayed on in Kenya to receive treatment. More Bethlehem College students and staff were expected to arrive back from Kenya today, and principal Eoin Crosbie was expected to meet that group in Auckland.