The affable auctioneer at the Karaka sales knows how to look at a horse. We went to look at one with him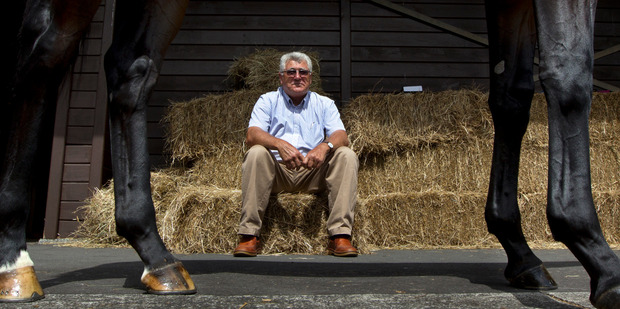 If you are going to see a man who looks at horses for a living, it'd be mad not to get him to have a look at a horse.
The man is Joe Walls, the chairman and the top auctioneer at NZ Bloodstock. I say he's the top auctioneer because I bet he is; he would never be so show-offy as to say any such thing.
We met him at the Karaka sales yards because they're getting ready for the big event: the yearling sales which will take place from next week. The grounds, unlike the auctioneer, are a bit show-offy, in a horsey way. There are lovely gardens and the white marquees are going up and the horses - the really glamorous players - are beginning to arrive. It smells nice, here at Horseland, doesn't it?
"Yeah, well," began the auctioneer, who, when he is not selling horses in the ring, speaks very calmly and deliberately, like the down-to-earth chap he is. You couldn't accuse him of getting carried away. He does not bang on about horses, at least he didn't to me, although I bet he can if the occasion demands. He doesn't mind the smell but he doesn't come over all poetic about it either.
"I guess it's the various things they use for putting the spit and polish on. You get a bit of hoof oil smell and you get a bit of hay and you get the smell of dung, of course. That's not always great but it's not offensive, I don't think, is it?"
He loves it all, really. "Yeah, it's become sort of second nature, I guess. But they're not a dirty type of smell, horses. Well, they're generally pretty well looked after."
You could say that. Some have fans wired into the fronts of their stalls. They have servants, dozens of immaculately kitted-out stablehands, mostly young women who are almost as well-groomed as the horses.
We had a look at a horse. He was a colt, a glorious creature, a very dark burnished brown, like a very expensive walnut. He was kindly provided, for photographic purposes, by a fellow called Mark who seems to run the show, at Karaka, for the Cambridge Stud which even I have heard of. The horse's handler was a glamorous blonde who was wearing lipstick. They made a pretty pair, but the horse stole the show.
Earlier I'd asked what it was you should look for in a horse. He said, cheerfully: "You'll probably print this, Michele! You know, a nice horse, it's like if I look - well, when I was younger! - at a nice woman. You don't need to be told what you like. You look at something and you think: 'That's a damn nice sort that!' You know."
I must have had a rather startled look - I was wondering just how a woman looks like a horse, but that wasn't quite what he meant. Although you can just about equate manes and equine legs with hair and human legs, I suppose. I'm sure his wife has very good legs but I wondered what she'd think about all of this. She's no doubt used to it. He said: "You're not ogling her!" I think he meant a human female or a horse. What would his wife think? "Oh she knows everything that I've done and do. Probably!"
That might raise a snort at home. I can't imagine that he was ever much of a larrikin. He has always been serious about the things that matter which are: His wife, the all-knowing Wendy; the horses; the motor-racing. Possibly in that order although it might well come down to a photo finish in a race between the last two on that list.
Just about anyone could see the beauty of a thoroughbred racehorse, but motor racing is just one hell of an awful racket, surely. This was heresy. "No! It's great. There's a lot goes on in a motor race, same as in a horse race. It's a lot about tactics."
He said: "I ran a midget at Western Springs." I knew what he meant but it is still one of the funniest sentences I'll ever get to type. It went over his head. Another thing motor racing and horse racing have in common: They both have their own lingo. Of his midget car, he said, "I drove it a couple of times but I thought that was a bit mad so I got a bloke to drive it for me." A jockey? "Well, you could say that. Ha, ha. He was a bit bigger than a jockey." He and his midget-driving bloke were NZ champions. This might be a better result than he's had with his horses. He hasn't, by the way, been on a horse since he was about 15. I always think it's odd when horsey people don't actually ride horses; he thinks it's commonsense. "I hear all about my mates, these old blokes who ride horses ... One bloke fell off recently and broke his collarbone. That's not for me. At the tender age of 65 I'm not interested."
He has one of the best pair of eyes in the business. He helped Sir Patrick Hogan find and buy that famous horse, Sir Tristram. Is he the eyes for the buyer? "No, another set of eyes." He knows, or so you'd think, how to pick a winner. It is part of the nature of the game, or the elusive magic, that you can know all there is to know about horses and the bloodlines of horses and it remains an elusive magic. He's had horses and some have won races and others have been good breeders. But has he come out ahead? Maybe just about ahead, by a nose. Has he ever picked a dud for a buyer? What a silly question. "Oh yeah!" He is generally acting as a consultant for his mates, so you'd think the duds might have destroyed a few friendships, but it doesn't work that way in Horseland. "One of the good things about the industry is that if the bloke with the most money could buy the best horse, he'd have all the best horses." And he doesn't. So it's a funny old business. "It is. As a lot of people will tell you: It's not a game for sissies."
Right, let's have a look at a horse, that photogenic colt: Number 130. Mark from Cambridge Stud patiently explained his breeding: He's an O'Reilly colt out of Encarta. This means that he is "very well-bred: One of his sisters and one of his brothers won group one races in Australia." I settled for saying he was very pretty. Can you say a colt is pretty? Mark said: "You can say whatever you like as long as he makes a pretty amount of money." A pretty amount of money means a pretty large amount of money. The stud is hoping he'll make 300,000 "plus".
Our man with the eyes had a look at him; of course he'd already had a look at him - he looks at all of the horses for sale and writes a little note to self in his bible, the sales book.
He said, before referring to the bible: "He's good. I don't give many As." He'd given him an A-. He doesn't tell an owner. "But I would say: 'He's a bloody nice horse'." How much will he go for? "He should fly in at 250 and could make about 400."
I can see that he's a bloody nice horse, but why is he? "I don't write a whole doss on what's wrong with the horse, I just notice he's a bit base narrow which means that his legs don't come down perpendicular, they come down a little bit narrow at the bottom. That's cosmetic; that's nothing. I know no more about him than what you've seen. I just think he's a nice horse. I've given him that A- and I've possibly been a bit harsh. But he's a good sort!"
What a funny job he has. He's wanted it ever since he was a little boy, really. His dad was a "lowly ganger [overseer]" on the railways in Horowhenua who, as a sideline, used to spell racehorses. On Saturdays the family (he's the second youngest of eight) would go to the races where he'd pick up discarded betting slips and sometimes, if he got really lucky, they'd have been thrown away without having been cashed in and he'd get enough money for a pie. He must have been a clever kid (one with an early obsession with horse breeding; he doesn't really know why) because his mother decided he was the only child who should go to university. "She thought I had more of a brain than I probably did." He was going to go to vet school but "I realised that was out of my reach so I changed to agricultural science". He has half a degree; the gees-gees were calling. He got a job at what was then Wright Stephenson, the stock and station agents, as a stock clerk. He made it known that he wanted to be an auctioneer. "So I started selling pigs!" Was he any good at selling pigs? "No, not really."
He must be not too bad at selling horses; he's been at it now for 41 years. Not that he'd go about bragging about how good he is, but he does think his stint in amateur dramatics may have helped. He was great mates with one Karl Sim, better known as Carl Goldie, who is "New Zealand's great forger. I used to fancy I could sing and he used to take me to amateur operatics".
He is a showman who still works in a theatre but the glitz and high-life that are Horseland haven't rubbed off on him. In the forecourt of the sales yards is an extraordinarily awful white, possibly marble, fountain with a base of horses heads. He said this sort of thing wasn't really his thing. He said, about Horseland: "I'm just careful for it not to consume me."
He has a pub in his house (the bar is an old pulpit found and restored by Wendy who might be long-suffering as well as all-knowing) and a beach place at Whitianga and he loves his dog - "he's pretty good, yeah". So he's done all right. "Where I come from, my side of the street we could neither afford fast horses nor fast cars."
He's not impressed by money or status. He's probably pretty much the same character as he was when he was that little boy - obsessed with fast horses and fast cars. He's a contented fellow, then. A good sort.