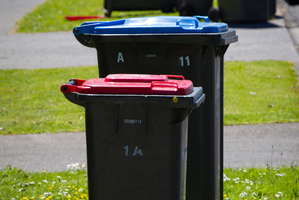 We are keen recyclers and have friends who are too. We have different views on what paper can be recycled. We put all paper into the recycling, whether it's clean or not, i.e. tissues, old wrapping paper, soggy paper, etc. They think only clean dry paper can be recycled. Can you clarify for us please? Mary Irwin, Auckland.
The former Auckland Regional Council website has a handy list of recyclable paper, which one assumes still applies. It includes paper cups and plates, paper towels (whether used or not), lunch bags, window envelopes, cardboard cartons and packaging, magazines and newspapers. Whether the material is wet or dry is of little importance. I would hesitate to put used tissues in the recycling, though, from a hygiene point of view.
At the Appian Way end of Civic Crescent near the Albany Mall there are parking spaces that have a sign: P120. Pay & Display. 8am-6pm. Every Day
The only Pay & Display machines are about 300m away. It appears as if there may have been a Pay & Display machine there at some stage but it has been removed.
To avoid confusion as to whether or not you are supposed to pay to park surely they could delete the Pay & Display line from the sign if it is now a free 120 minute parking zone. Christine Bercht, Albany.
The P120 means that you are restricted to parking in these spaces for 120 minutes, but you must still pay for the privilege within the designated hours.
I drive down Nelson St in the city on my way to work, and am always irritated and puzzled by the fact that the lights at every intersection are not co-ordinated. Why is this? David Williamson, Balmoral.
A traffic engineer has supplied the following, which may go some way towards alleviating your irritation.
Traffic signals adjust green time based on the spacing and numbers of vehicles passing the stop line sensor. Each direction gets an allocated amount of green time every cycle. A cycle is the total time for every direction (or phase) to run once. More vehicles crossing the sensor allows more green time in the next cycle. But the system also uses spacing between vehicles. The bigger the gap between cars means shorter green time this cycle. This is to do with the calculation determining the most efficient flow of vehicles. So if you have a slow truck in front of you which leaves a big gap in front of it, the green time will get cut short. This spare green time will then be given to the next direction to use. If people stay within 3m of the car ahead of them when driving over the stop line (providing it is safe to do so), they will end up with more green time (up to a limit).