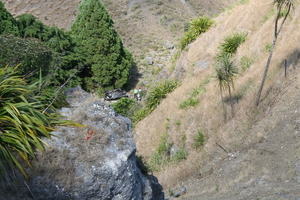 A teenager was found dead after being flung from a Mercedes Benz when it crashed off Te Mata Peak in Hawke's Bay yesterday morning.
Tom Angus Hay, 19, from Havelock North was found at the base of a steep gully after his car fell 150 metres from the road to the summit.
Hawke's Bay Police Sergeant Ray Kirkby said it appeared the teenager, the sole occupant of the car, had been travelling downhill but it wasn't known when the crash happened.
"We don't know anything else at this stage," he said. "The investigation is continuing."
There were no tyre marks on the bend where the car left the road and there was no indication it had been travelling at speed.
The vehicle struck a bluff, crashed over walking tracks and into the gully, ending upside down.
It was noticed by Zoe Shore who spotted the "shining bright light" of the sun reflecting off the wreck as she walked to the summit about 10am.
The road was closed to traffic all day as emergency services attempted to recover the vehicle and the police Serious Crash Unit investigated.
A 26-year-old Hastings man survived a 100m plunge from a lower part of the road in December.
A 72-year-old Napier man died after his car rolled about 300m in 2010. The coroner who investigated his death recommended barriers be installed at the popular tourist spot.
The stretch of road is under the jurisdiction of Te Mata Park Trust Board.
Board chairman Bruno Chambers was unavailable for comment yesterday but after the last death he said there were few crashes relatives to the number of vehicles using the road.
Hastings Mayor Lawrence Yule said until more was known about the crash, there would be no decision on ways to make the road safer.
"It is a dangerous piece of road and there is no ability at many parts of it to widen it," Mr Yule said. "The terrain is very, very narrow."
For more articles from this region, go to Hawkes Bay Today