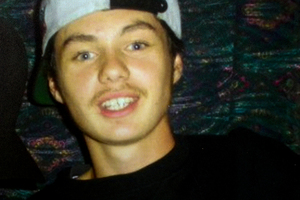 His son was shot dead by an air rifle while drinking alcohol with his friends - but the victim's father says he isn't angry with the teenager who pulled the trigger.
Shaun Townsley snr said lessons needed to be learned from the backyard shooting which ended with his 18-year-old son Shaun's death. But he was more disappointed than angry.
"Disappointed that it happened. But you can't be mad at them for being young, dumb and stupid."
Despite frantic efforts by his friends and others who rushed to help, Shaun Townsley jnr died soon after he arrived at hospital on January 13. An autopsy revealed the pellet pierced his heart.
Police have yet to decide if charges will be laid over the incident, but Mr Townsley told the Herald yesterday the friend who fired the rifle would live with it forever.
He will not be in court if police decide to lay charges. "I don't want to be there and see that happen to him."
Knowing the exact details of his son's final moments were not a priority. "To me, it's not important. He was always out doing his own thing so he was living life to the fullest."
But he had been told Shaun was lining targets up against the fence when he stepped the wrong way - and into the path of where his friend was shooting.
"What we heard is they were travelling round all day. Apart from walking into that slug, it was the only thing that went wrong. Otherwise he would have been here today."
He said it was only speculation but his son could have been intoxicated and not listening to whatever was said. It is understood he was warned the gun was about to be fired.
Along with alcohol, Mr Townsley blamed a lack of understanding of how powerful air rifles could be. But he doubted a law change would stop such deaths from happening because other people could get the guns for anyone who wanted them.
When his son's friends came to visit the family they were clearly upset. "There was a lot of talk about them going off and being stupid too but I told them it's a waste of time. There's already two lives ruined."
The boy who fired the shot couldn't talk because he was "shattered". "To see his mate lying there in a state was heavy, it took its toll."
They all said sorry, even those who weren't there. "Sorry was a big word that day."
Shaun was missed by his three brothers and would be remembered as a "kind-hearted boy who always helped around. He was well liked and well loved".
Shortly before he died, Shaun lost his job as a mechanic. His plans for this year were to re-enter the workforce or do a course.