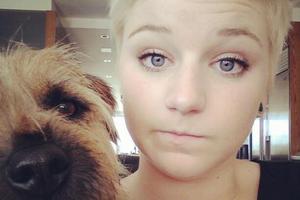 A New Zealand teenager who died as a result of a bus crash in Kenya told passengers going to her aid to help others first, despite being badly injured.
Former Bethlehem College student Caitlin Dickson, 19, died along with Tauranga couple Brian and Grace Johnston when the mini-van they were in lost control and ran into a ditch on Kenya's notorious Nairobi-Murang'a highway at 11pm on Tuesday.
At a press conference at the college today, principal Eoin Crosbie said Caitlin had told those trying to help her to help others on the bus first, saying "I'm okay''.
Her best friend, Lydia Hollister-Jones, 18, said that was the sort of person that Caitlin was.
The trio were part of the Bethlehem College mission partnership programme with Kenya's Ark Quest School in Mahanga, and among a group of 12 students from the school, accompanied by seven adults.
Caitlin had been largely responsible for establishing a well in Mahanga that services about 10,000 people, Lydia said.
She described her friend as "brave and beautiful''.
"I was so blessed to be able to know her.''
Mr Crosbie said three Bethlehem College students remained in hospital in Kenya, two of them seriously injured.
Some of them were unaware their friends were dead, he said.
The bodies of the dead were expected to be home soon.
"I think they'll be back fairly quickly and that is already underway,'' Mr Crosbie said.
A vigil was organised at Bethlehem College chapel this morning by Lydia and another of Caitlin's friends, Matt Smallberger, giving those who knew Caitlin the opportunity to write in a condolence book and pray.
About 150 people had registered to come along on Facebook.
Locals had also held their own service for the dead at the Kenyan hospital.
"She put her hand up"
Caitlin's passion and commitment to help others was so strong that when she heard Bethlehem College was organising another volunteer mission trip to Kenya she had no hesitation about joining.
"She saw the opportunity and put her hand up," one of the school's teachers, Linda Anderson, told the Bay of Plenty Times.
"She was always thinking about others and how she could better their circumstances."
But it was to be a trip that would ultimately cost Caitlin her life.
The group left New Zealand on December 28 for a four-week volunteer project building classrooms for the impoverished school.
They were just days away from returning home.
The tragedy has left their families and the Bethlehem school community in mourning.
Mrs Anderson, Bethlehem's head of drama, said Caitlin got so much out of her experiences in Kenya in 2011 that she wanted to return.
She remembered Caitlin as having a lovely personality and someone who enjoyed helping people in need, including shaving her head to raise money for the teenage cancer support charity CanTeen.
Caitlin's first trip to Kenya was as a college senior student.
This time the trip was on her own account.
Mrs Anderson also had fond memories of Caitlin's enthusiasm as a drama student.
"She loved Shakespeare. She was the queen who reigned over a Shakespeare competition at school. She loved her drama and was very good."
Caitlin was also a regular helper at the school's mission fundraising sausage sizzle at the Tauranga Farmers Market.
One of the people hurt in the accident, associate principal Philip Russell, had been the organiser of the sausage sizzle for many years.
The market's manager, Trixie Allen, paid tribute to the work of Mr Russell and his team of student helpers who were there rain and shine.
"They do a brilliant job raising funds for the mission work. They are a brilliant bunch. I'm sure it will be a very low-key barbecue this Saturday," Ms Allen said.
On Caitlin's Facebook page, friends paid tributes last night.
On a photograph of the former student a friend had written "you have to be an angel".
Laurence Matthew Dean posted: "I refuse to believe that I will ever meet a woman with such a staggering zest for life as you.
"You loved unconditionally, your dorky sense of humour was infectious, you were everything we could have asked for and more. We will miss you more than you could possibly know. You will never be forgotten. I love you Caitlin Dickson, always."
The Johnstons, who had 10 children, were heavily involved in the college and would attend most school events or functions. "Even if their children weren't in them, they would still go along to support the others," Mr Crosbie said.
All 10 of their children attended Bethlehem College, where two are still students.
"This will touch many people in the community. They were people who served others first as part of their Christian faith," Mr Crosbie said.
"The nicest person you would ever meet"
Yesterday was the anniversary of Dr Johnston, an anaesthetist, starting with the Bay of Plenty District Health Board. He had been a staff member for 26 years at Tauranga and Whakatane Hospitals.
Health board chief executive Phil Cammish said Dr Johnston was described by colleagues as "the nicest person you would ever meet" and someone who "would only ever give, never take".
"Brian and Grace have also been described as 'woven into the fabric of the Bay of Plenty' and will be sorely missed", Mr Cammish said.
Friend Jim Cairns-Nelson, an anaesthetic technician, worked alongside Dr Johnston for almost 15 years.
"I was quite close to him, so I was really shocked, to be honest.
"His two sons both play premier senior league with my son ... and my son is pretty shocked because they're good mates."
Mr Cairns-Nelson is involved with the Otumoetai Eels Rugby League Club, where Dr Johnston's sons Mike, Phil and Chris are players.
Phil, in his late teens, was at the club's first training session on Tuesday night.
Mr Cairns-Nelson said Dr and Mrs Johnston were very supportive of their boys, showing up regularly to watch their matches.
"Brian was a real league man. He's a quiet man, but we used to talk Warriors all the time at the hospital.
"They're just quiet, humble people.
"They're just the best kind of people and parents you'd want your kids to be around."
Mr Crosbie said he was working to get the school group home as soon as possible and planned to meet with families last night.
Both families have asked for privacy.
Details of the crash emerged yesterday afternoon.
Some of the group travelled behind the mini-van in a car and were also injured.
Two teachers were understood to have broken bones while team leader Mr Russell suffered concussion. The van driver, who was considered a member of the mission, also died.
One teacher, Gemma Tong, was from Rotorua's Chapman College, which is modelled on Bethlehem.
It was yet to be confirmed whether those who did not survive died at the crash scene or later in hospital.
The tragedy was reported in Kenyan newspaper The Star.
Murang'a South traffic boss Loise Gatimu told the newspaper the road where the crash happened was notorious for bad driving.
Most accidents in the region had been caused by careless drivers.
"We are losing too many innocent lives on this road that has turned into a nightmare to residents due to careless driving. The rising carnage can only be checked if drivers observe traffic rules."
A Ministry of Foreign Affairs and Trade spokesperson said the ministry was aware of a motor vehicle accident in Kenya involving students from Bethlehem College in Tauranga.
"The New Zealand High Commission in Pretoria is providing consular assistance and support. We are unable to release further details at this time."
Prime Minister John Key said the Government was giving its support to the victims.
"The nearest representation that New Zealand has is in South Africa, so our people from our embassy in South Africa are travelling over to Kenya to provide support to the others who are part of the group, and obviously we're working closely with the families of the loved ones.
"The Government expresses its deepest sympathy to the families who have lost loved ones and everyone caught up in what must be a very terrifying moment for those young people," he said.
- additional reporting NZ Herald
- APNZ