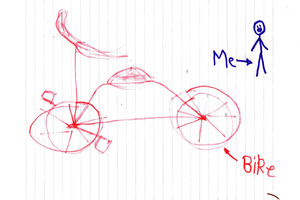 The search is on for a young boy who hopes to get his new red bike insured.
Robbie wrote a letter to "Mr Tower" at Tower Insurance asking for help.
"Pleese insurance my bike," the letter read, which was written in green pen or pencil.
Robbie drew a picture of his bike for the company and taped a 50c coin to the letter to fund his insurance. But Tower has no contact details for Robbie so is appealing to the public for help.
A photo of the letter and Robbie's drawing was posted on the firm's Facebook page on Monday.
Tower's general manager of sales and marketing, Chris Jackson, said the letter was legitimate and they wanted to find Robbie so they could "do something for him".
"I just think it's so sweet, a little fellow sending in a picture of his bike with a 50c coin asking us to insure the bike. He just forgot to give us a return address to get hold of him."
Mr Jackson was not sure if 50c would cover an insurance policy for Robbie's bike.
On trail of conscientious cyclist
Do you know who Robbie is? Email newsdesk@nzherald.co.nz.