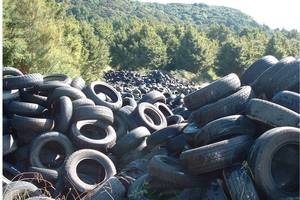 A company has been fined more than $77,000 after dumping up to a million tyres at a Waikato property, but the man responsible has allegedly fled to Australia.
This week the Hamilton District Court fined Ross Britten Ltd $77,600, despite its sole director, Ross Britten, not being in court for the sentencing.
The Waikato Regional Council investigated the company, and found that over a period of years Britten was paid to pick up old tyres from tyre outlets in Auckland, council investigation manager Patrick Lynch said.
Instead of disposing of the tyres correctly, he was using his own earthmoving equipment to bury a large number of them at a Naike property, near Huntly.
Council staff executed a search warrant at the property and uncovered thousands of tyres, many sitting in or below ground water.
Records showed Britten had collected up to a million tyres over a period of six years.
"Disused tyres are a huge problem for New Zealand. Every year there are four million automotive tyres to be disposed of in this country,'' Mr Lynch said.
"They can be a real threat to the environment. When stored en masse above ground they're a terrible fire risk. When buried, and particularly when they're exposed to water, they can start to break down and discharge harmful contaminants.''
Mr Lynch said although the company involved had been fined, Britten was still to face personal liability action.
It was thought Mr Lynch had fled to Australia to avoid the court case.
"Though he has been convicted, he left the country before he was sentenced. The court has issued a warrant to arrest Mr Britten that I imagine will be executed if and when he returns to New Zealand.''
The Naike property has been since been sold.
- APNZ