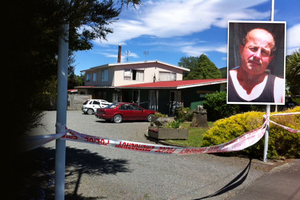 Police hunting two men after the death of a Featherston supermarket worker say there have been no confirmed sightings, but they are continuing to follow up useful information from the public.
Kristofer Jones, 23, and Hayden Ranson, 27, are believed to have fled the greater Wellington region and may be in the central or upper North Island.
Both men were wanted for aggravated burglary in connection with an attack on Glen Jones.
Mr Jones, 40, was the victim of an attack and was found bloodied and unconscious in his Fitzherbert St unit in Featherston soon after 12am on Saturday.
He died in Wellington Hospital about 5am that day.
Wellington district police spokesman Nick Bohm this morning said there had been not yet been any confirmed sightings of Jones and Ranson.
But he said police and the anonymous Crimestoppers line had received a number of useful calls.
"We're still very appreciative of the information that's coming in from the public."
Asked what connections the men had in the North Island, outside of their local area, Mr Bohm said: "We are obviously pursuing lines of inquiry about any associations they may have."
Two women, aged 32 and 22, and a man aged 28 appeared in Masterton District Court yesterday afternoon on related charges and did not enter pleas to a count each of entering a building while armed with intent to commit a crime.
Detective Inspector Sean Hansen yesterday said the two remaining men were believed to be driving a blue 1989 Mitsubishi Mirage, registration OE7854.
"Members of the public are advised not to approach them and should immediately contact police," he said.
Police on Sunday recovered three items which might have been used in the attack from an industrial property in Lower Hutt.
- APNZ